Since she survived a gruesome Taliban attack nearly two years ago, Malala Yousafzai has been called many things -- an activist, a leader, a much-needed voice of an oppressed people.
But one Texas artist has reimagined the brave 17-year-old as a bold American symbol that no one has suggested before: Rosie the Riveter.
Anat Ronen, a self-taught urban artist, painted the mural -- titled "Yes She Can!" -- at the Avis Frank Gallery in Houston in May. It melds Yousafzai's face together with the signature features of the World War II icon.
The 1940s image represented the strength and wherewithal required of women who went to work in factories while the men went overseas to fight. Ronen feels Yousafzai, in her mission to bring universal education to every child, bears many of the same brave and empowered characteristics of those American women during that period.
Adjacent to the image of Yousafzai's face, Ronen added one of the activist's most enduring quotes: "All I want is education. And I'm afraid of no one."
Yousafzai offered the courageous statement in an interview when she was only 11 and was well aware that she could be a target of the Taliban, according to The Washington Post. The Pakistani girl decided to defy the terrorist's group decrees, and to continue going to school and blogging about her experiences, despite Taliban threats.
Ronen was aware that critics would likely take issue with her blending together a traditional U.S. symbol with someone of foreign descent, but was confident that it would ultimately come together naturally.
"I sensed they felt uneasy with the fact that I am distorting one of America's greatest symbols," Ronen told BuzzFeed. "After the text was added, everything fell in place and people are able to make the connection and even if they never heard of Malala before, they now do."
Related
Before You Go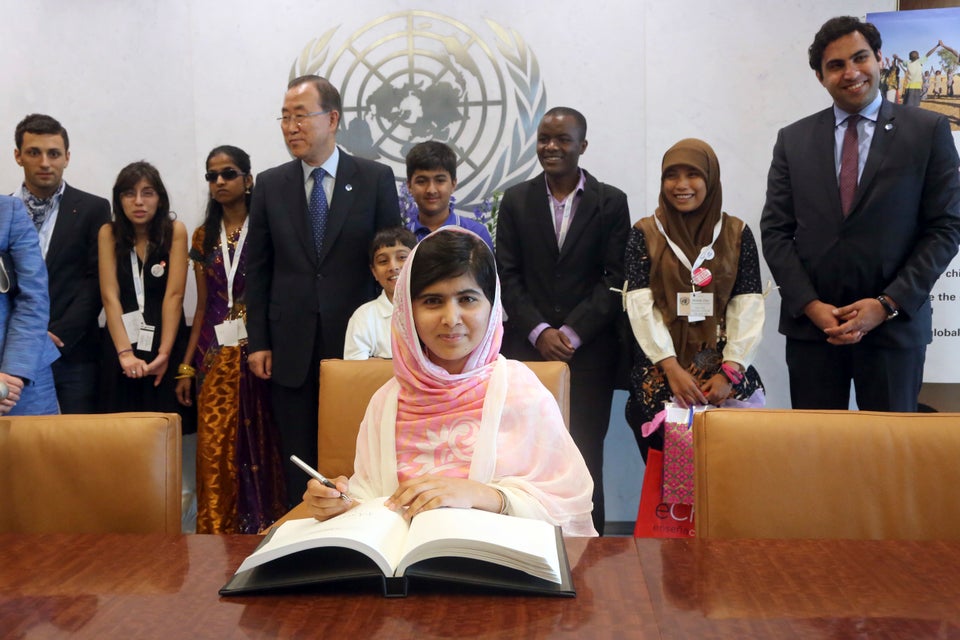 Malala Takes The UN By Storm
Popular in the Community