 After being nominated for the Nobel Peace Prize, 16-year-old Malala Yousufzai is taking up another ambitious challenge: Educating the massive influx of Syrian refugees living in Lebanon.
Teaming with former British Prime Minister Gordon Brown and rights organization "A World at School," the activist will work to raise $500 million over the next three years to provide education to the 300,000 Syrian school-age children living in Lebanon. According to Time, Lebanon estimates nearly 550,000 school-aged Syrian children will be in the country by the end of the year, outnumbering Lebanon's own 300,000 school-aged children.
To raise awareness for the program, Malala spoke via Skype with two refugees, Zahra and Om Kolthoum Katou, who have been living in Lebanon for the last year since being forced from their home in Aleppo. The young refugees went six months without attending school, but are now enrolled in catch-up classes funded by UNICEF.
"I totally support you. You are very brave," Malala told the girls. "I believe that you will get your education, that you will go to school – and that no one can stop you."
Altogether, nearly two million people have fled Syria since the beginning of the conflict.
"For a country that was close to achieving universal primary education before the conflict started, the numbers are staggering" said Maria Calivis, UNICEF Regional Director for the Middle East and North Africa.
In August, Malala won the International Children's Peace Prize for her dedication to promoting education. The young Pakistani activist rose to worldwide prominence after surviving an assassination attempt by the Taliban in 2012. She now lives and attends school in England.
Before You Go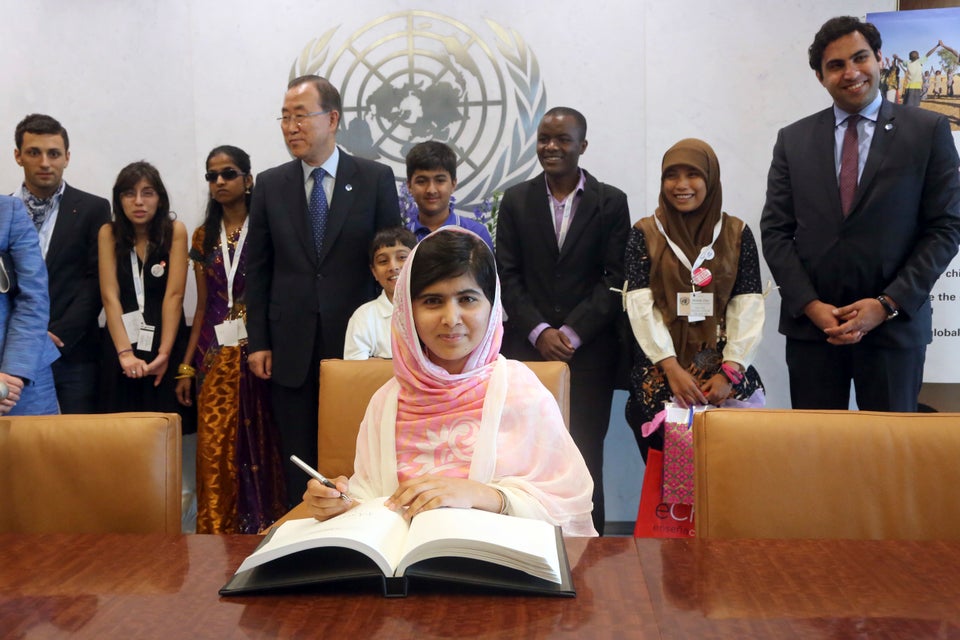 Malala Takes The UN By Storm