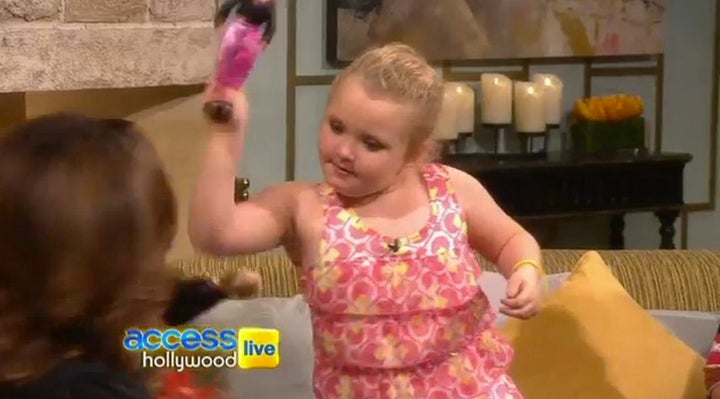 Malala Yousafzai started blogging for the BBC Urdu in 2008 when she was 11-years-old. The BBC was looking for a novel way to describe the growing influence of the Taliban in Pakistan. They came up with the idea of having a schoolgirl discuss her life, highlighting the fact that she could no longer pursue an education under Taliban rule. Given the danger of speaking out, the BBC knew the girl would need to remain anonymous -- but the girl's father allowed her to give speeches and Malala increasingly took on a public, activist role. On October 9 the BBC's worst fears were confirmed when Malala was shot in the head by a Taliban group while waiting at a bus stop.
Alana Thompson stepped into the spotlight this past January when she was featured on an episode of Toddlers & Tiaras. Viewers fell in love with the sassy, free-spirited, chubby girl. With her pregnant teenage sister, extreme couponing-mom, and blended family structure it seemed the Thompson-Shannon clan was tailor-made for TLC reality family stardom. "Here Comes Honey Boo Boo" premiered in August and it quickly became must-see-TV. (Its fourth episode, which aired during the Republican National Convention, garnered more viewers on cable in the coveted 18-49 demographic).
Clearly there are serious safety concerns about placing real children -- who are not characters, like child performers -- in the public eye. If we are complicit in these children's fame, and their compromised safety, by watching and reaching about their lives, we must be willing to change the underlying social problems that they represent.
Honey Boo Boo reveals deep social inequality in American society that, while not as life-threatening as that in Pakistan, is quite serious. There is a reason Mama June's dining room is filled with toilet paper she got through couponing; there is a reason she makes 'sketti (pasta made with microwaved ketchup and butter); there is a reason she calls the local dump their "department store" where they "buy" clothes. In America, particularly in rural areas like the Georgia county that the family calls home, children still go hungry and they receive an inferior education to that of their wealthier peers. No one is going to assassinate Alana for showing the reality of American families like hers, but in becoming the poster child for that inequality Alana's personal safety has been compromised.
If Alana reflects continued inequality in America, Malala reflects continued inequality in the world. The irony is that Alana and her family are now financially benefiting from their previously impoverished family life. It's been reported that they will now earn five-figures per episode.
REAL LIFE. REAL NEWS. REAL VOICES.
Help us tell more of the stories that matter from voices that too often remain unheard.