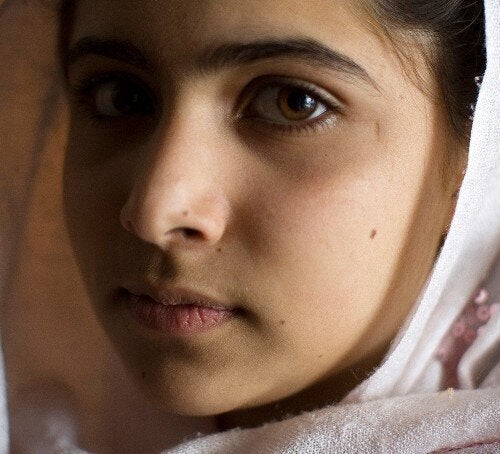 Famous world sites from the Niagara falls to the London Eye have turned to pink today to mark the world's first International Day of Girl Child, but there is an extra reason why the world should wear pink -- to signal support for Malala Yousafzai, the Pakistani girl shot by the Taliban for demanding that she and other girls go to school.
As she fights for her life in a hospital, Malala, who wore a pink dress to school to defy the Taliban and has written a BBC Urdu blog describing how she was banned from school for being a girl, is rightly becoming the icon for 32 million girls worldwide who are out of primary school -- and for the global fight to ensure by 2015 the right of every girl to an education.
Today, the girl from the Swat valley of Pakistan, who was forced to flee her village when the Taliban closed her school, should be adopted by the world. As she fights the Taliban -- who labelled her campaign for girls' education an 'obscenity' -- her courage should be celebrated and we should think of her as everyone's daughter.
Giving messages of support for Malala from all over the world, I have asked Pakistan's President Zardari to pledge that Malala's suffering will not be in vain.
A few days ago I received a promise from him that his government will now do everything -- providing teachers, resources and financial help for families -- to get girls to school. We agreed that the office of the United Nations Special Envoy for Global Education would send a delegation to Pakistan to agree practical proposals to turn the promise of education for every girl into a reality by the end of 2015, the deadline for achieving the Millennium Development Goal of education for every child.
Three years ago, aged 11, Malala told us in a blog, "I was afraid of going to school because the Taliban had issued an edict banning all girls from attending schools." She described how, "On my way from school to home I heard a man saying, 'I will kill you.'" Banned from school, she told the world that "my real name means 'grief stricken.'"
Now as her name is broadcast across the world as an icon for courage and hope, I am determined that her shooting produces much more than just the talk of change. When I met President Zardari we agreed to draw up a plan to put Pakistan's five million out-of-school girls and boys into the classroom. A week before, I also met the new Pakistani foreign minister and finance minister and pledged global support if they would move further and faster to achieve education for all.
I have talked to the President about expanding the cash support scheme organized by the Benazir Income Support Program that incentivizes families to get their children, especially their daughters, to school. At the same time we talked of expanding the UK-supported project in the Punjab that has already sent an additional one million children to school by insisting on attendance, teacher quality and proper administration.
But Pakistan needs a step-change in delivery of education by each of its provinces, who are responsible for schools, if we are to have a chance of meeting the Millennium Development Goal that every child is enrolled in school by 2015.
Round the world the campaign for girls' education -- a campaign that Malala now symbolizes -- is fighting evils which prevent us realizing our goal. Child marriage takes 10 million girls a year out of school and into marriages they did not choose; child labor prevents 15 million girls and boys under 14 going to school; the conscription of child soldiers takes thousands upon thousands more girls out of the classroom and onto the battlefield.
Yet it can cost just two dollars a week year to educate a child in the poorest parts of Africa and Asia -- and so we have to fight the prejudice that downgrades girls to second-class citizens who are not to be heard and rarely seen either.
Pakistan needs to be shocked into action, with the Taliban shamed and forced into accepting the basic freedoms of every girl. From this International Day of the Girl Child forward, Malala's fight for life should become the whole world's fight for not only establishing every girl's right to education but also achieving within three years a school place for the neglected 32 million.
Popular in the Community