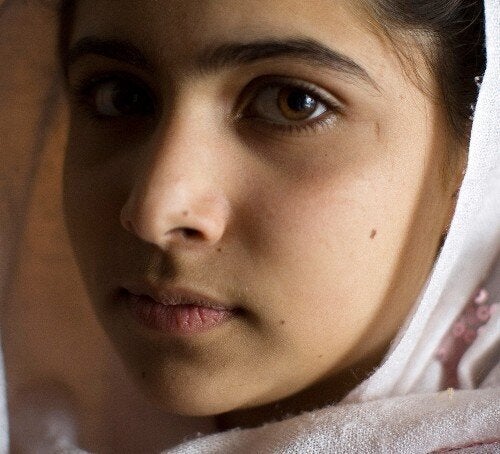 Malala simply wanted to go to school and get an education. Religious extremists, citing Sharia law, viewed that as a war against their self-appointed authority as the keepers of Islamic law and targeted her to be killed. The Taliban of Pakistan waylaid her school van, jumped aboard, verified her identity and opened fire on Tuesday, Oct. 9. Before the van driver was able to speed away, fourteen-year-old Malala lay bleeding with shots to her head. She was rushed to the hospital where neurosurgeons worked for three hours to remove a bullet lodged in her neck. She is fighting for her life but still remains in critical condition. Malala Yousafzai one of the daughters of Swat Valley, is no ordinary school girl. She was only eleven years old when Pakistan's Taliban overran the picturesque region and turned it to smoldering ashes in 2009. Education for girls was banned and they were ordered to quit school and stay home. To further terrorize the region, the Taliban burned down more than 400 schools for girls. But, Malala would not quietly retreat and disappear into the shadows without a struggle. Encouraged by her father, Ziauddin Yousafzai, who started and headed the girls' school which Malala attended, she reached out to the world with the help of modern technology, not accessible to many girls in that region. She pounded out a detailed account of her daily struggles in her anonymous BBC blog. She feared acid attacks to her face and worried for the safety of her family. In her blog, she recalled the night when the family awoke to the thundering of gunfire and were forced to flee their home and she also tells of the horrors of seeing headless bodies strewn in their path.
Malala's identity, thus far hidden, was revealed when the Taliban were driven out of Swat Valley. Her powerful blog posts were recognized and she was awarded Pakistan's first National Peace Prize for youths. At twelve years of age, Malala's stand, not to let religious extremists squash her dreams of getting an education, got international attention and she met with Richard Holbrooke, President Obama's Special Envoy to the region and appealed for U.S. help. Sponsored by UNICEF, the outspoken girl also led delegations to speak to local politicians about children's rights. Her initial dream was to be a doctor and help people but as she met with politicians, she developed a new dream. She told reporters that she wanted to become a politician because her country was in "crisis." She hoped to serve her country and help bring change.
Malala stands on her father's strong shoulders for guidance and support. A brave and forward thinking man, Ziauddin Yousafzai was chosen as Peace Ambassador by the U.S. State Department a couple of years ago. During his stay with close friend Zebu Jilani, founder of the grassroots movement, Swat Relief Initiative, Malala's father spoke of his daughter's dreams and her desire to make a difference.
Having celebrated the UN International Day of the Girl, a day for highlighting, celebrating and advancing the lives of girls across the globe, our hearts are with Malala, the bravest of them all. She feared they would come for her one day, but still continued to go to school, and through her actions, challenged the Taliban's attempts to diminish all girls and force them to remain illiterate and ignorant. Threatened by the proverbial mighty pen of this young warrior who bravely stood up for equality and empowerment of girls, the misguided men of Taliban justified the assassination plot by citing passages from the Holy Quran. They declared, through their spokesman that they will come for her again if she manages to come out of the hospital.
It is not enough for us to weep for Malala. This is the time to stand together because every single girl is valued and we must send the message that the fight will not be over till the oppressors back down and accept the rights of girls to be educated. The oppressed daughters of the world are not mere "Shadows in the Sun," but as valuable as the sun itself, which gives life. They deserve to be honored and given the dignity as human beings. The world powers too must take action against countries that harbor these religious extremists who, among other things, wage war against educating girls and are determined to suppress women.
Let us add our voices to Malala's voice and fight this hypocritical madness. This is a crime against humanity and Muslims must come together from every corner of the world and set the record straight. Let the world know that Islam condemns the atrocity against this child and denounces those who wage war against their daughters. Let the collective voices of Muslims be heard above the roar of extremist guns which wage war against women and girls and murder children.
Calling all HuffPost superfans!
Sign up for membership to become a founding member and help shape HuffPost's next chapter