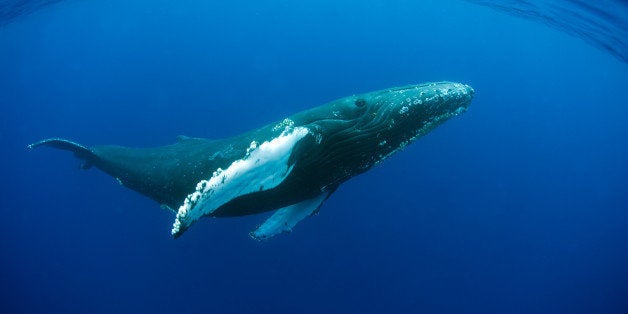 While whales were once a dwindling species, tens of thousands of the protected mammals now live and migrate through the coastal waters of the United States. And apparently, that's bad news for humans, according to one state senator.
"We're an ocean-going state," Hawaii Sen. Malama Solomon (D) said at a public meeting at the University of Hawaii at Hilo. "We enjoy our marine waters. Right now, the way [the National Oceanic and Atmospheric Association] is set up, you hit a whale, you're to blame. The whale is blameless. Okay, I have a problem with that."
Solomon, who is the chair of Hawaii's Senate Committee on Water and Land, added that "we protect people for recreational or for commercial uses on our public lands, as well as on our waters. People are our priority."
Using Alaska's recent petition and the U.S. Constitution to back her up, Solomon says it's time to take whales off the endangered species list, because "we're putting up millions of dollars, millions of dollars for this sanctuary, when we could be using those millions of dollars to put it toward the protection of other endangered species that our state may feel is a priority."
In February, the Alaska Department of Fish and Game petitioned NOAA to remove humpback whales from the Endangered Species Act list, citing that their population in the north Pacific Ocean has rebounded to about 20,000 from as little as 1,400 in 1966. That petition is currently under review.
According to NOAA's website, the Hawaiian Islands Humpback Whale National Marine Sanctuary, which, as Honolulu Civil Beat points out, extends around the coasts of Maui, Kauai, the Big Island and Oahu, constitutes "one of the world's most important" humpback whale habitats in the north Pacific, "and the only place in U.S. coastal waters where humpbacks reproduce."
Solomon also thinks the same should be done to Hawaii's treasured green sea turtles. "I know it kind of plucks some people's heartstrings," she said. "'Nooo, don't delist them!' Well, you know what? It's costing you money, costing the taxpayer money -- dollars that could be used in other areas" such as "the protection of other endangered species that our state may feel is a priority."
Watch her whole speech in the below video by Big Island Video News. What do you think?