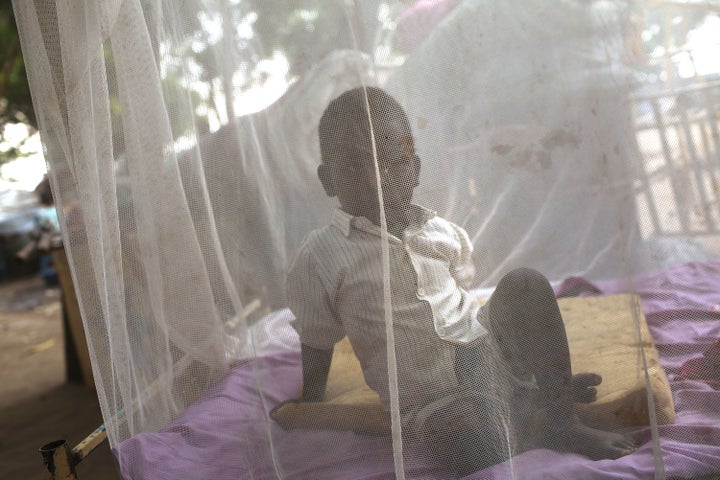 My 16-year-old daughter's iron will to shop may have saved millions of lives.
Flashback five years ago this week: Rae and I were on spring break in Venice, Italy. She was so excited, mostly because I'd promised to buy her one (1) nice outfit. But we'd been shopping three (3) hours and she still bought nothing (0).
By that time, I was walking like Dr. Zhivago. "I'm going back to the room," I muttered. "Knock yourself out."
I flopped down on the bed, flipped on the T.V. and saw a BBC documentary that would change my life. One sentence spun my brain: "Did you know that every day 3,000 children in Africa die of malaria, needlessly?"
Turns out if sub-Saharan African kids six and under could just sleep under bed nets, they'd be almost entirely protected from malaria-carrying mosquitos. They might die of something else, but not malaria. And a net is only $10, the announcer said.
I'm a sportswriter. All we do is write about nets. Cutting down nets, leaping over nets, surfing the net, watching New Jersey Nets and cheerleaders in fishnets. People dying for lack of nets? Impossible!
It was so simple even sports fans could get it: No cure needed. No warlords to fight. No corrupt governments to topple. Just $10 to save a life. You want to save a life or have two espresso macchiatos?
But before I could publish it, I needed some place for people to send the money. So I Googled "African malaria deaths" and found a group called Roll Back Malaria, working closely with the United Nations Foundation, Ted Turner's deal. They agreed to put a little box on the front of their website.
"But what do you want to call it?" the director, Elizabeth McKee Gore, asked me. I thought of a hoops term. When you swish a shot, it hits "nothing but net," we say. "How about 'Nothing But Nets'?" I said.
I would've been delighted with $100,000. But in that first week alone, we got almost $1 million. After that -- like Kirstie Alley -- it just spread all over the place. American Idol started kicking in millions. Bill and Melinda Gates. Girl scouts. Athletes. College kids started having "Buzzkill" parties, where they'd shave their heads and give the money to Nothing But Nets.
We went to Africa and put them up ourselves. Mandy Moore got into it. Kyle Korver of the Philadelphia 76ers. Luol Deng of the Chicago Bulls. Hundreds of people. Thousands. We're now up to $35 million -- that's over 3.5 million nets -- with our own website (nothingbutnets.net, naturally) and no sign of stopping. We're part of one of the great success stories in world health charity movements. According to the World Health Organization, bed nets now cover 76 percent of kids at risk for malaria in Africa.
When we started this, experts guessed we needed 300 million nets to cover everybody. Today, we only need 30 million. OK, those 30 million must go to some of the world's toughest places to hang them -- Liberia, the CAR (Central African Republic), and the DRC (Democratic Republic of the Congo) -- but still, why not be happy? It's World Malaria Day, it's the second half of the game, and we're kicking malaria's butt.
Anyway, back to that hotel room in Venice: By the time young Rae came home, I had the column half written -- the best one of my life, as it turns out.
Unfortunately, it wasn't all good news.
In her shopping bags, she had some outfit ($289) that, to this day, I still have never seen her wear.
The Champions to End Malaria exhibit -- a joint project of the United Nations Foundation's Nothing But Nets campaign, the Roll Back Malaria Partnership and the ExxonMobil Foundation -- highlights the extraordinary efforts individuals have made against malaria. Featuring portraits by world-renowned photographer Platon, the exhibition illustrates that anyone- from students and CEOs to bishops and basketball players -- can have a role in bringing an end to malaria deaths.
Popular in the Community