Vice President Joe Biden had a message for Rep. Paul Ryan (R-Wis.) early in the vice presidential debate on Thursday: "Malarkey."
As the Republican vice presidential nominee finished answering a question about the Romney campaign's critique of the Obama administration's response to the attacks in Benghazi, Libya, last month, Biden interjected, telling the Ryan, "With all due respect, that's a bunch of malarkey."
The Obama campaign even leveraged the hashtag, buying advertisements for the Twitter search term "#malarkey."
But the malarkey didn't stop there. Biden used the word again later in the debate to describe what he called "simply inaccurate" statements about foreign policy.
RADDATZ: ... Governor Romney, and you're talking about this again tonight, talked about the weakness; talked about apologies from the Obama administration. Was that really appropriate right in the middle of the crisis?

RYAN: On that same day, the Obama administration had the exact same position. Let's recall that they disavowed their own statement that they had put out earlier in the day in Cairo. So we had the same position, but we will -- it's never too early to speak out for our values.

We should have spoken out right away when the green revolution was up and starting; when the mullahs in Iran were attacking their people. We should not have called Bashar Assad a reformer when he was turning his Russian-provided guns on his own people. We should always stand up for peace, for democracy, for individual rights.

And we should not be imposing these devastating defense cuts, because what that does when we equivocate on our values, when we show that we're cutting down on defense, it makes us more weak. It projects weakness. And when we look weak, our adversaries are much more willing to test us. They're more brazen in their attacks, and are allies are less willing to...

(CROSSTALK)

BIDEN: With all due respect, that's a bunch of malarkey.
ABC's Martha Raddatz, the moderator, pressed Biden to be specific. Click over to ABC News to read what the vice president had to say.
Before You Go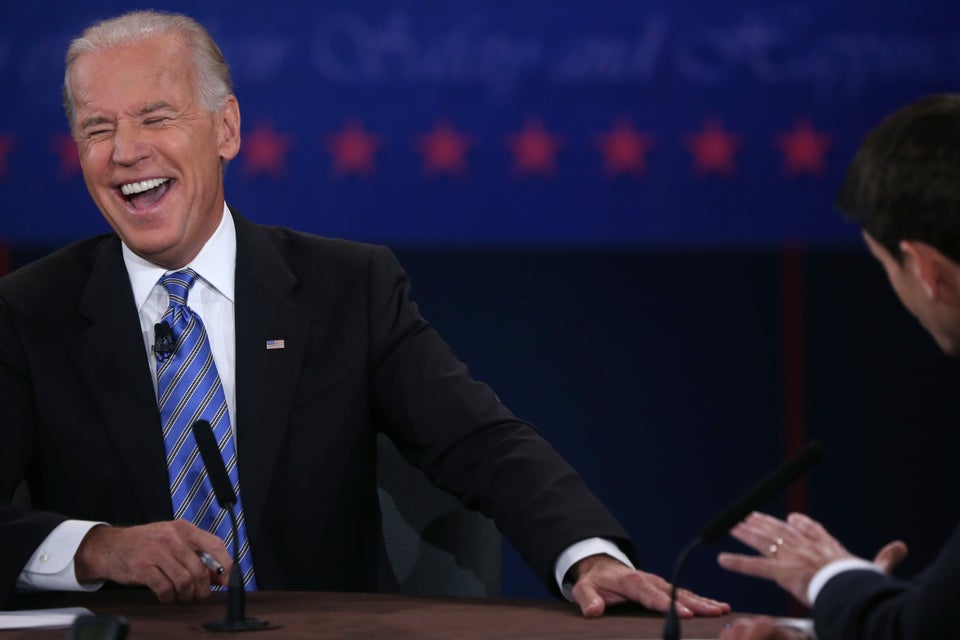 Joe Biden Makes Faces At VP Debate
Popular in the Community