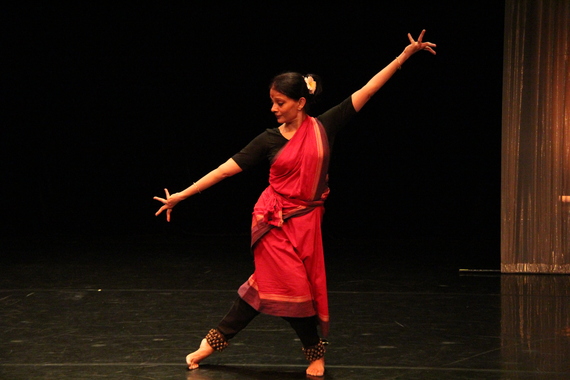 Malavika Sarukkai, the Indian classical dancer par excellence, believes that dance is sacred. This ideology has followed her like a sutra and was actualized in a performance in 2012 at the White Lights Festival, Lincoln Center.

The program, entitled 'Yatra: Achieving Transcendence in Dance,' was her realization, after many years of enquiry, into the 'reality in dance.'
"I discovered spirituality a long time ago. For a while it was dormant, but in later years I saw it as a valid part of my life that I had to follow. Once you see that moment and feel that moment, you would be foolish to turn back, you can't."
Sarukkai performs classical Bharatanatyam, an evolved dance style from southern India that uses hand gestures, facial expressions, and complex feet movements to tell mythological and contemporary stories. The art is a description of India -- its sacred geography and mystic beauty. But Sarukkai says comprehension of Bharatanatyam is not a condition for enjoying her performance.
"You don't need to understand. If the artist is soaked and can recreate moments which are intense and electrifying, the audience can feel it. I come and dance to experience. For when I experience, my audience experiences. That's what I want to do with my dance."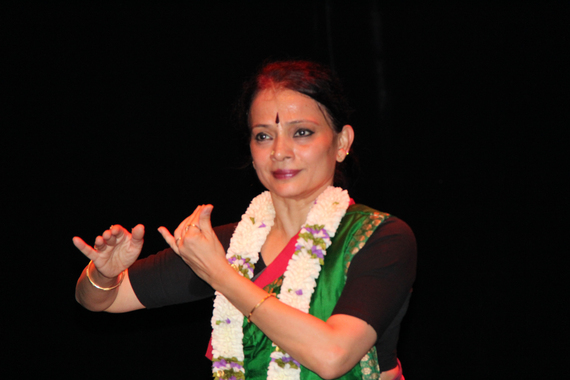 The program Yatra, explored different journeys or moments of seeking. Her initial piece explored the moment of stillness or harmony which comes with taut body alignment. Her next piece, 'Ras,' delved into the moment of spiritual bliss in the woods; when Gopi's, hearing the flute of Krishna, leave their worldly possessions to follow him. Another piece, 'Song of the Bird,' compared birds in flight with the pilgrims of Benares; both seeking a greater perspective in life. The final piece, 'Laya,' was a journey into the temple; an allegorical journey from busy lives depicted by the outer temple sculptures to silence within the inner sanctum.
"Indian classical dance, because of its formalized structure and alignment, helps us to touch that moment of spiritually or harmony. It is such a mind-body discipline that comes after years of practice and years of living it."
Sarukkai has been named one of the premier proponents of Bharathanatyam from India. This has resulted in making many sacrifices but she is not regretful.
"Sometimes I do look back and say I missed that whole chapter in my life. But then I say my novel has other chapters, that others don't have."
In 2012, Sarukkai celebrated her 40 anniversary of dance by performing anonymously in front of the Nataraja (Shiva) temple in Chidambaram, South India -- one of her favorite temples. Her friends urged her to celebrate with a big anniversary performance, but Sarukkai refused.

"When I am in Chidambaram I feel like I have come home. I wanted to offer my dance as an offering for my anniversary. It was the proper thing to do".
Calling all HuffPost superfans!
Sign up for membership to become a founding member and help shape HuffPost's next chapter