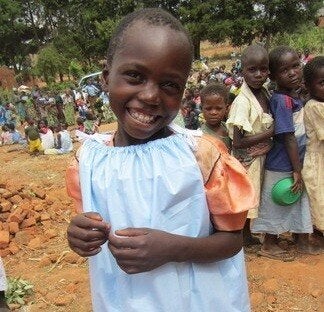 Under the radar of the ongoing global financial crisis, the continued war in Afghanistan and racially charged killings in the United States, there was a quiet and earth shaking victory in the small, landlocked southern African country of Malawi. On April 7th, 2012, Vice President Joyce Banda was sworn in as the President of the country -- making her the first female president of Malawi, only the second on the continent. Malawi is one of the world's poorest countries, beleaguered by high maternal and child mortality and with an HIV prevalence of 14 percent. Yet, in President Banda, we see a ray of hope.
She is, in many ways, a remarkably different African leader. She comes not from the World Bank, the military or a family dynasty -- the common loci of power that typically springboard people to the presidency of developing countries but from civil society. President Banda is a business woman, a grassroots organizer and a vocal advocate for women and children. Her personal story is one of tragedy, honesty and triumph -- a story that has elements of the struggles faced by many women on the African continent and throughout the world.
President Banda hails from a rural village in Malawi. Like many African women, she married young and followed her husband. By age 25 she found herself in Kenya, trapped in an abusive marriage caring for her three young children. However, rather than retire to this reality, she fought back, inspired by the nascent women's movement in Kenya and in 1975, she took her children, left the abuse and returned to her native country.
In Malawi, she became a very successful business person -- another rarity for African women. She used her growing success as a platform to empower women both with her personal story and through the creation of the Joyce Banda Foundation to support women and girls.
Unlike many programs that conflate women's empowerment with dissemination of knowledge alone, President Banda used her position as a successful business woman to help other women achieve financial independence and to increase access to education for girls.
As she embarked on her political career as Minister of Gender, Minister of Foreign Affairs and later as Vice President, Mrs. Banda championed the recognition of domestic violence with a tenaciousness and honesty that has helped countless Malawian women. While Minister of Gender in 2006 her office crafted the "Prevention of Domestic Violence Bill" which afforded legal protection for women and children within their homes and families. As Vice President, she was a champion for women's issues, including serving as the Safe Motherhood Ambassador and a member of the Global Leaders Council for Reproductive Health. It was through these roles that our organization, Partners In Health, got to know then Vice President Banda as an outspoken advocate for women and for civil society engagement to support and promote health as a human right.
Our organization serves the public sector in the rural district of Neno the kind of place oft forgotten by leaders everywhere. Yet Neno, and many other forgotten places, are squarely on President Banda's radar. Mrs. Banda travelled to many rural districts talking with traditional authorities, lay midwives and community members to increase awareness about the importance of giving birth in a clinic or hospital. Like her work in domestic violence, however, she realized that knowledge alone is not enough to impact a problem as complex as maternal mortality. She therefore combined her efforts with communities to assure structural change -- a basic package of supplies, trained staff and improvements in infrastructure at health centers to ensure that if the community was able to support women delivering in hospitals the women would be received and attended to properly.
Those who know President Banda know her as a grassroots activist and a civil servant, as a mother and a leader, as a firebrand and a pragmatist. She is passionate about improving the lives of Malawians through a combination of civil society engagement and government commitment and in both of these areas, she has deep experience. This is good news for Malawi, for Africa and for governments and grassroots organizations that wish to form an alliance for a brighter African future.
Related
Popular in the Community