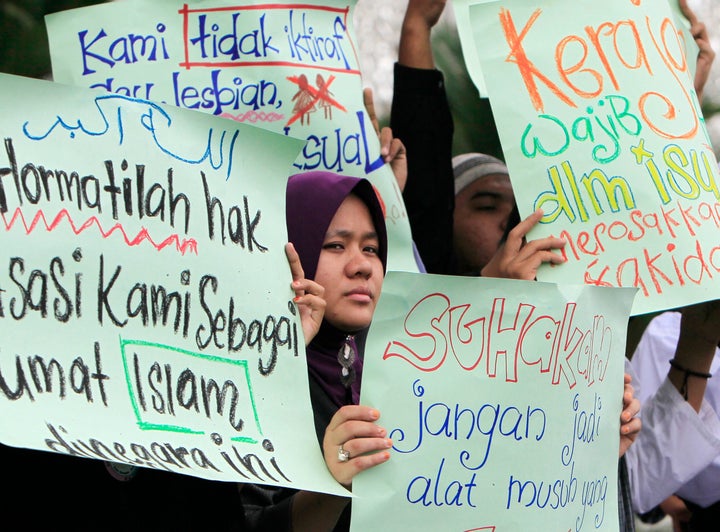 RANTAU, Malaysia (Thomson Reuters Foundation) - In her dimly lit room in a Malaysian village, Suki rests on a bed as she recovers from a brutal attack that has highlighted what campaigners say is growing hostility towards gay and transgender people in the country.
A transgender woman, Suki was beaten up by a group of assailants last week with sticks and plastic pipes in Seremban, a town south of the Malaysian capital Kuala Lumpur.
She suffered broken ribs, a ruptured spleen and head injuries that required seven stitches. Police have arrested eight men suspected of carrying out the attack.
"They hit me and stepped on me repeatedly, I couldn't move," she told the Thomson Reuters Foundation at her home in Rantau, a sleepy village in the central state of Negeri Sembilan.
"I tried to call out for help, but I couldn't speak," said Suki, a part-time make-up artist in her 30s who asked not to be identified in full to protect her privacy.
Lesbian, gay, bisexual and transgender (LGBT) people have long suffered discrimination in Muslim-majority Malaysia.
Gay sex remains banned under a British colonial-era law, while dressing as the opposite sex is illegal. Activists say a law against public indecency has been used to target sexual minorities.
But several incidents in recent weeks have stoked concerns among rights groups that the climate for the country's LGBT community is deteriorating further.
'SYSTEMIC OPPRESSION'
The Islamic affairs minister has spoken out against gay people, and ordered the removal of portraits of two LGBT activists from an art exhibition this month, sparking public outrage.
Last week, two women in the conservative state of Terengganu were sentenced to be caned under Islamic sharia law after being caught attempting to have sex in a car. On Saturday, officers raided a gay bar in the capital Kuala Lumpur.
Activist Dorian Wilde said anti-LGBT statements from officials cause stigma and discrimination towards the community, and transgender people in particular have to bear the brunt of the hatred due to their visibility.
"The more and more being said, the more misinformation, the more violent things will be," said Wilde, a transgender man who founded the support group, Transmen of Malaysia.
There has been a surge in homophobic and transphobic commenting on social media in recent days, which included describing LGBT people as from "hell" and calling for them to be killed, according to Wilde.
Three cases of trans women being killed were reported in 2017, according to the trans rights group, Justice for Sisters, while hundreds of others trans women were arrested in recent years under the law against cross-dressing.
The group's co-founder, Thilaga Sulathireh, said Malaysia had a tolerant attitude toward transgender people until the early 1980s, when a council of Muslim leaders issued a religious edict against gender re-assignment surgery for Muslims.
Since then, there has been a steady rise in discrimination.
"This kind of oppression is very systemic, from their identification cards, to jobs, housing and healthcare."
"At this point we are only asking for the violence and discrimination to stop, we are not asking for any special rights - just let people be who they are," Sulathireh said.
Rising conservatism has fueled fears that Malaysia's moderate brand of Islam is coming under threat from hardliners.
Over 60 percent of its 32 million population are Malay Muslims, but the Southeast Asian country is also home to a large number of ethnic minorities who practise other religions.
"People are feeling anxious," said Numan Afifi, an openly gay Muslim man who runs the Pelangi Campaign group that fights against LGBT discrimination.
"We hear cases of trans women being harassed in the workplace, like employers forcing them to cut their hair."
REFORM AGENDA
The government, which swept into power in May elections after campaigning on a reform agenda, has been urged - by campaigners as well as members of the administration - to act against the spread of hatred toward LGBT people.
"This hate campaign against those with different sexual orientation has to stop," said Hannah Yeoh, the deputy minister for women, family and community development.
"You can disagree with them but using violence is a cowardly act. Hate crime is just wrong and must be condemned," she added.
Mia, a trans woman who lives in Seremban where Suki was attacked, said the local transgender community was fearful and in shock.
"We have been through so much trauma because of who we are but we have not seen such violence in years," said the 40-year-old, who declined to give her full name due to fears of repercussion.
"I don't feel safe. Today the victim is Suki, what about tomorrow or the day after? Will it be me?" Mia asked, as tears welled up in her eyes.
Reporting by Beh Lih Yi @behlihyi, Editing by Jared Ferrie. Please credit the Thomson Reuters Foundation, the charitable arm of Thomson Reuters, that covers humanitarian news, women's rights, trafficking, property rights, climate change and resilience.
Popular in the Community