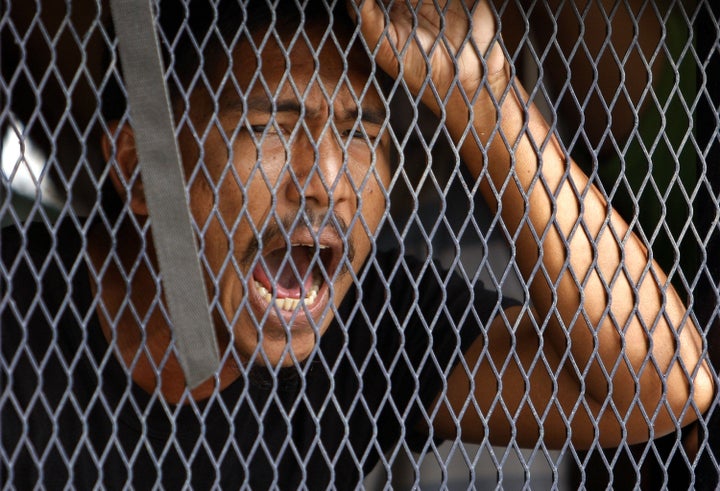 KUALA LUMPUR (Reuters) - Malaysian police fired repeated rounds of tear gas and detained over 1,400 people in the capital on Saturday as thousands of activists evaded roadblocks and barbed wire to hold a street protest against Prime Minister Najib Razak's government.
At least a dozen people were hurt in the demonstration for electoral reform in downtown Kuala Lumpur. There were no reports of serious injuries but some analysts said the police action was excessive and would dent Najib's image.
"We are not criminals, we are just asking for free and fair elections," opposition leader Anwar Ibrahim's daughter, Nurul Izzah Anwar, told reporters after her father was knocked down and hurt in a melee when he and his supporters were tear gassed.
"Many innocent people were injured. We condemn this act of cruelty by UMNO and Barisan Nasional," she said, referring to Najib's party and the ruling coalition.
Street protests are rare in this Southeast Asian nation, but foreign investors are worried that any groundswell of anti-government sentiment could delay economic reforms seen as essential to draw investment.
If he is put under popular pressure, Najib may reconsider plans for a snap election and hold back on reforms such as cutting fuel subsidies or unwinding an affirmative action program for the country's Malay majority.
Polls are not due until 2013 but analysts have said Najib could seek an early mandate after economic growth accelerated to a 10-year high in 2010.
"From Najib's perspective, holding elections anytime soon would be a mistake because of the damage that has been done today," said Bridget Welsh, Malaysia specialist at Singapore Management University.
"The fact that such a large crowd turned up despite a crackdown shows that voter anger is deep and this is going to push a lot of people who are in the middle toward the opposition."
Reuters witnesses saw tear gas shells lobbed repeatedly at groups of protesters in downtown Kuala Lumpur as the crowds chanted "Long Live the People" and "Reformasi, reformasi," the Malay word for reform.
Several people were seen bleeding after the tear gas was fired, but police gave no details of any injuries. Crowds around the city's main bus station were also sprayed with water cannon.
Malaysia's inspector-general of police, Ismail Omar, said 1,401 people were taken into custody, but many will be released after questioning. At least three senior opposition leaders were among those detained, other officials said.
"We have made our point that we want free and fair elections," said Chan Mei Yin, a 32-year old accountant who joined the protest.
"The police are just showing that they are brutal to Malaysians. I will not vote for this government."
While Malaysia is far from being divided by political strife like its northern neighbor Thailand, the opposition has been steadily growing more vocal.
Tens of thousands of demonstrators took to the streets at a November 2007 rally, which analysts said galvanized support for the opposition ahead of record gains in a 2008 general election.
Analysts said the turnout of protesters on Saturday was more than 10,000, around the same as in 2007. Police, however, put the number at 5,000-6,000, while protest organizers claimed 50,000 attended.
"Malaysian civil society is showing the government that intimidation will not work," said Ooi Kee Beng, a political analyst at the Institute of Southeast Asian Studies of Singapore.
"We're seeing a lack of will on the part of the government to try to negotiate and to defuse the situation. It's all going to look very bad outside Malaysia."
After Malaysia's constitutional monarch tried to defuse the situation, the government initially offered Bersih (Clean), the group that called the protest, the use of a stadium to hold its demonstration.
But it baulked at allowing the group to use the main stadium in downtown Kuala Lumpur, at which point Bersih said it would defy the ban.
From midnight, police locked down the central shopping district of the city of 1.6 million people, setting up roadblocks and barring taxis and buses from the area. Suburban trains, however, continued to operate and other areas of the city were not affected.
Bersih has vowed to bring together tens of thousands of supporters to the protest but it fell short. Still, some analysts said the government faced a problem.
"Just looking at the crowd there were many 'first timers', young people from the Facebook generation who just wanted to have a peaceful life," said Ibrahim Suffian, director of the independent opinion polling outfit Merdeka Center.
"This is trouble for Najib as it will polarize traditionally non-political segments of society like the young even further away from him."
Najib took power in 2009, and inherited a divided ruling coalition which had been weakened by historic losses in the 2008 polls. He has promised to restructure government and economy and introduced an inclusive brand of politics aimed at uniting the country's different races.
Najib's approval ratings have risen from 45 percent to 69 percent in February, according to independent polling outfit Merdeka Center. But analysts said recent ethnic and religious differences have undermined his popularity.
(Additional reporting by Angie Teo and Damir Sagolj; Writing by Liau Y-Sing; Editing by Raju Gopalakrishnan and Sugita Katyal)
Support HuffPost
The Stakes Have Never Been Higher
Related
Popular in the Community