The woman takes two wiry black hairs from a vial and dips them in water. She then puts them on a sheet of white paper. The stuff of forest magic lines her stall: powders, dried fruits, shrivelled nuts...slender feathers and strange leathery objects.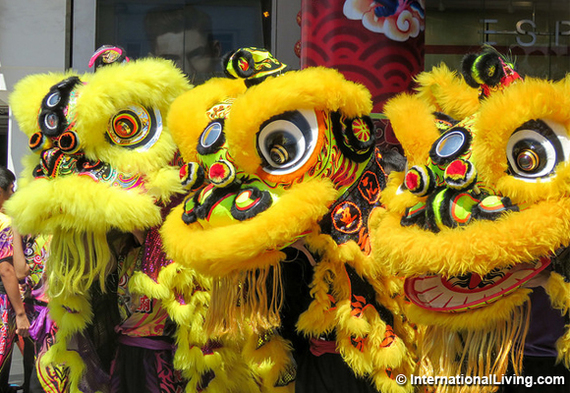 Kota Kinabalu Dragons, Malaysia
The hairs curl upward on the paper. Two earnest men look on. She is telling a fortune with those hairs...how, I'm not quite sure.
It's Sunday in the laidback Malaysian city of Kota Kinabalu. Families trundle strollers past stalls of gamelans (a percussive instrument), curved knives, mulberry tea and squishy sea creatures kept moist in tanks. It's all here: dogs, cats, chickens, carved totems and a slick little man with a headset selling miracle cures.
This street -- Jalan Gaya -- is famous for this weekly market, but you won't see many white faces. Expats in KK (as Kota Kinabalu is called) are a discreet bunch. You won't find the social clubs and lively art and restaurant scene of Malaysia's most popular retirement haven, Penang.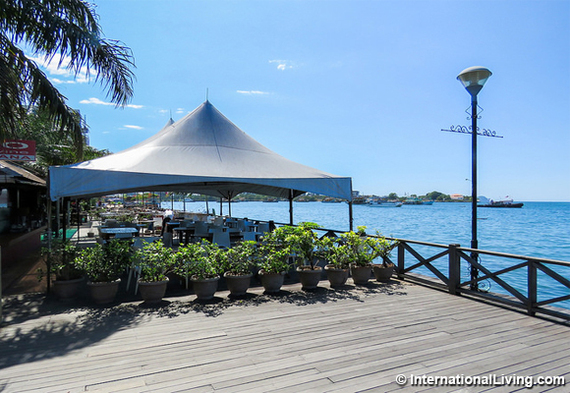 Pier View in Kota Kinabalu, Malaysia
But KK has much to offer. And there are foreign retirees here. This is the gateway to Malaysian Borneo and the thrills and adventure of Asia's largest island. English is widely spoken, people are friendly and curious, and more than half of the province is forest, much of it protected national parks. Elephants, orangutans, fruit bats, gibbons, clouded leopards and crocodiles ... 3,000 types of tree, 15,000 species of flowering plant ... extensive coral reefs ... spend your days exploring nature and your evenings at the movies or dining on the waterfront promenade.
Costs are low. You'll rent from as little as $450 -- that's short-term and flexible -- and added to that your monthly costs range from $800 to $2,000 depending on the lifestyle you chose. Eat out often in western-style restaurants and buy imported western goods and you'll be at the higher end. But where's the fun in that? Hainanese-style chicken and rice orhinava, a traditional ceviche-style dish of the Kadazan-Dusun people, are the perfect low-cost way to fill up.
The Kadazan-Dusun are the largest indigenous group, followed by the Bajau and Murut. The latter were the region's most feared headhunters, and there was a time that no young man of the tribe could marry until he had collected a head. But you're safe these days -- very safe in KK -- and you can take a day trip from town to visit with these people and even stay the night in their traditional longhouses.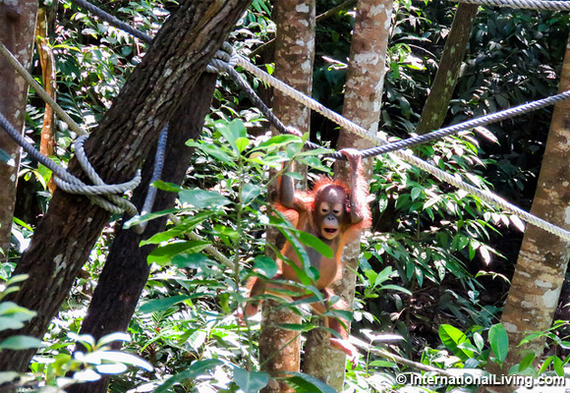 Orangutan in Kota Kinabalu, Malaysia
Then there are the many festivals...Chinese New Year was in full swing when I visited. Many of the city's million or so population are of Chinese descent, along with Malays and Filipinos.
KK won't wow you with architectural wonders. Much of the city was destroyed in Allied bombing during the war. From some angles, it looks like the set of a 1960s Bond movie. The waterfront promenade is pleasant though, and you'll find traditional craft shops painted pastel yellow. It's a walkable place. But as temperatures average 28 C year-round, a good tip is to discover the shortcuts through the many air-conditioned shopping centers.
These shopping centers house all the big brands, gourmet coffee shops and food courts you could want. A visit to the food court in the Suria shopping centre is particularly worthwhile. Apart from the wide range of good eats at low prices (I had lunch for three bucks) you'll find a long balcony with views of the ocean and the islands offshore.
In fact, an easy day-trip is the 15-minute boat ride out to Sapi island where you can spend the day snorkelling. Gaya is the biggest island and offers trekking and white sands. It's only 10-minutes away and boats for both islands leave from Jesselton Ferry Terminal right beside the Suria shopping centre.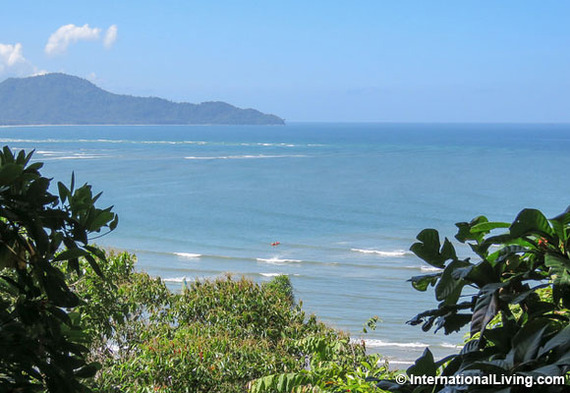 Ocean View in Kota Kinabalu, Malaysia
Rentals are easy to find. I saw several buildings around town dedicated to serviced apartments. Close to the waterfront you can rent by the day or the month in Marina Court. Online rates start from $750 a month but my contact told me you can get a place there for as little as $450 if you come in person. And that includes electricity and water.
Buildings are shooting up around KK. I viewed one small apartment for sale at $105,000. But renting makes the most sense. Sure, some entrepreneurial sorts have set up tourism businesses, bars and restaurants. You can find Aussie, Italian and even Hungarian food. But for most folks, KK is probably at its best as an attractive base for a part-time, roving retirement.
If, down the line, you feel like making this laidback city your permanent home, then it's worth mentioning you'll find good, affordable healthcare here.
From the city's airport, you can take advantage of fierce competition among low-cost airlines. Get to Bali in two-and-a-half hours, Singapore or the Philippines in just over two hours, and Taiwan in three hours.
This article comes to us courtesy of International Living (Australia Edition), leading authority on how to live, work, travel and retire better overseas. (Above pricing is in Australian dollars.)
PHOTO GALLERY
2016 Top 10 Best Places to Retire Overseas
Calling all HuffPost superfans!
Sign up for membership to become a founding member and help shape HuffPost's next chapter