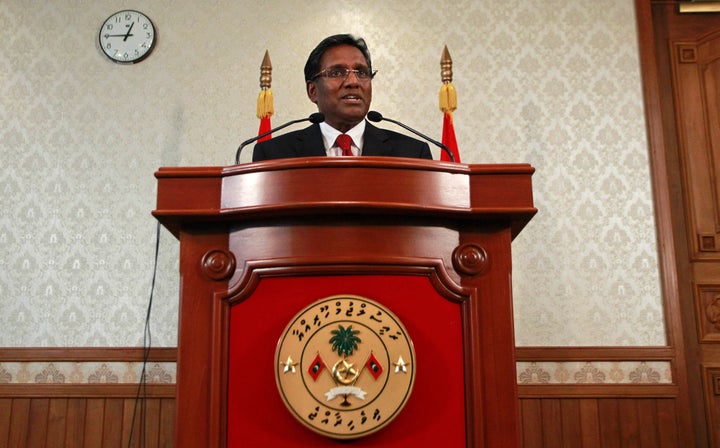 Mention the Maldives, and an image of an idyllic holiday paradise, clear blue water, pristine beaches and luxury resorts comes to mind. The Indian Ocean archipelago with a population of little more than 300,000 rarely features on the world's political agenda. On February 7, however, the tiny nation was gripped by political turmoil as its nascent democracy was strangled in its infancy. Mohamed Nasheed, the Maldives' first democratically-elected president, was forced to resign at gunpoint by a cabal of rebel police, Islamists, and his own deputy, with the former dictator Maumoon Abdul Gayoom pulling the strings.
This was a coup, yet it has been accepted as a legitimate transfer of power. Reactions from around the world have been astonishing in their weakness. U.S. Assistant Secretary of State Robert Blake visiting Male merely said "some people say it was a coup, some people say it was a peaceful and constitutional transfer of power. That is not for the U.S. to decide, that is for the Maldivians." Yet, even the new president's own brother Naushad Waheed Hassan resigned from his position as Acting High Commissioner of the Maldives in the United Kingdom stating, "I cannot serve a regime that brought down the democratically-elected government in a coup d'etat" saying to his brother, "[D]o the right thing -- resign and hold fresh elections. Let the people of Maldives decide."
Nasheed, 44, is no stranger to political struggle. For more than three decades, Gayoom ruled the country with an iron fist, every bit an archetypal dictator. Corrupt and brutal, he did not hesitate to jail and torture his opponents. Educated abroad, Nasheed was first imprisoned in 1990, for an article accusing Gayoom of rigging the previous year's election. Amnesty International declared him a prisoner of conscience. Over the next 16 years, Nasheed was arrested 12 times, tortured, jailed for over six years, kept in solitary confinement for 18 months and detained under house arrest.
In 2003, Nasheed founded the Maldivian Democratic Party (MDP), which grew into a powerful political force in opposition to Gayoom's dictatorship. Just three years later, Nasheed was released from house arrest and in 2008, the country's first free and fair multi-party elections were held. Nasheed won, ending Gayoom's 30 years of dictatorship.
As president, Nasheed set about cleaning up the country's corrupt institutions, instituting democracy and fighting climate change. Greeted as a hero by environmentalists for his efforts to secure an agreement on climate change at the Copenhagen summit, he warned that the Maldives would cease to exist due to rising water levels if the issue was not tackled. He became a role model for democratic transition in the Muslim world, and was a precursor to the Arab Spring.
It was his determined effort to take on vested interests in the Maldives, however, that led to his downfall. The judiciary is stacked with Gayoom's appointees, who have done everything they could to obstruct reform and protect corrupt members of the old regime. A month ago, he ordered the arrest of Abdullah Mohamed, chief judge of the criminal court, on charges of corruption and political bias. The judge had a track record failing to follow the law, and now it was their turn to protect him. Demonstrations began, stirred up by Islamists who see Nasheed as too liberal.
It all came to a head on February 7. Police stormed the MDP headquarters, attacking members and looting and burning property. Security forces seized control of the state television station, renaming it "Television Maldives (TVM)," the name it had in Gayoom's day. And they stormed the National Museum, destroying numerous Buddhist artifacts from the Maldives' pre-Islamic era. After a night of violence, more than a dozen armed men stormed the president's office the following morning and told him at gunpoint if he didn't sign a resignation letter, they would take up arms. Just after midday, he was frogmarched to a press conference by Mohamed Nazim, a former Army colonel he had sacked from his government and who is now the Defense Minister in the new regime. Nasheed announced his resignation, saying he wanted to avoid further bloodshed. He was then held incommunicado for a day so the rebels could claim the transfer of power was legitimate.
If this is not a coup, what is? Whatever criticisms there may be of Nasheed, and there is an appropriate debate to be had about whether he was right to arrest the judge, forcing a democratically-elected president from office under the threat of violence can never be justified.
The world's failure to stand up to all this must be corrected. These events must be recognized as a coup, and appropriate action taken. The United Nations should immediately demand the Maldives agree to an independent investigation of what occurred. The United States should impose the sanctions that are automatically triggered by law when a military coup overthrows a democratically-elected government. Pressure should be mounted to ensure Nasheed's security and liberty. And fresh elections should be held within a few months, with Nasheed and his party free to contest them. The new regime should be granted no legitimacy - only once the people of the Maldives have had their say can the international community recognize the country's government as legitimate.
The Maldives may be a small country, but there is a big principle at stake. It cannot be in the international community's interests to allow six years of democratic transition to be undone in a few hours.
Jared Genser is a human-rights lawyer and adjunct professor of law at Georgetown University Law Center. Benedict Rogers is Deputy Chair of the Conservative Party Human Rights Commission in the United Kingdom. He visited Mohamed Nasheed in 2006, when he was under house arrest as opposition leader, and campaigned for his release.
REAL LIFE. REAL NEWS. REAL VOICES.
Help us tell more of the stories that matter from voices that too often remain unheard.