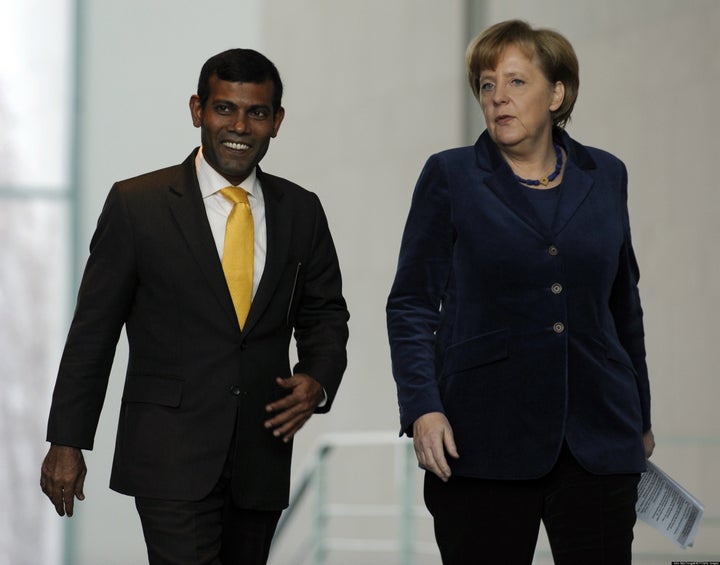 By Vishal Arora
Religion News Service
MALE, Maldives (RNS) Despite its small population (about 400,000 residents) and small size (about twice as large as Washington, D.C.), this overwhelmingly Muslim nation is claiming success in rehabilitating hard-core Islamic terrorists.
The string of more than 1,100 islands off India's southern tip is now offering to export its success to nations seeking to combat extremism.
Skeptics, meanwhile, say the program is built on Saudi Arabia's strict Wahhabi version of Islam, which some critics say actually foments extremism; 15 of the 19 hijackers in the 9/11 attackers were Saudi citizens.
The rehabilitation effort is sponsored by the country's Ministry of Islamic Affairs. Minister Abdul Majeed Abdul Bari says there's hope in the Quran for Muslims who have "gone astray."
Starting with Iran's 1979 Islamist revolution and worsening after the 9/11 attacks, extremist Islam fanned out across the Islamic world, eventually reaching the tiny island nation, said Bari, a graduate of Saudi Arabia's Islamic University of al-Madinah.
Bari said extremism took root in the Maldives under former President Maumoon Abdul Gayoom, who ruled for 30 years until the country's first multiparty elections in 2008.
Gayoom's government-sponsored version of Islam issued Friday sermons to be read in mosques, licensed preachers and banned the promotion of any opinion that was contrary to the official line from the Ministry of Islamic Affairs, he said.
"Citizens began to search for `true Islam,"' Bari said. "Exploiting the situation, some unqualified preachers indoctrinated uneducated and gullible people."
In 2007, a bomb in a park outside Bari's office wounded 12 tourists. A week later, more than 50 suspected extremists were arrested when security personnel stormed a makeshift mosque on the island of Himandhoo and were confronted by masked men carrying swords and iron rods.
"The use of force," claimed the minister, "made the people of the island more radical and anti-government. The whole island turned to extremism."
After a 2008 conference of Islamic nations in Saudi Arabia that focused on combating extremism, current President Mohamed Nasheed's government opted for "teaching the true spirit of Islam in lieu of force," Bari said.
Six terror suspects from the Himandhoo raid were transferred to a prison, where they were counseled by Ministry officials over nearly a year. Government agents also reached out to all residents of Himandhoo.
More regularly, the government tries to harness mass media and community-level programs to promote a "correct" interpretation of Islam.
"We sent Islamic scholars to Himandhoo and were able to win back not only the indoctrinated people of the island, but also the six terrorists held for the 2007 (skirmish in Himandhoo)," Bari said. "They are now peacefully engaging in various social activities."
The opposition, however, doesn't buy the rosy success story. Abdulla Yameen, the former president's half-brother and leader of the People's Alliance opposition party, alleges that Wahhabism is growing under the current government and the government has little control over what forms of Islam are preached in the country.
Bari is a leader of the Adhaalath (Justice) Party, an ally of the ruling Maldivian Democratic Party, which supports the rehab efforts.
"We do not believe fundamentalism is dealt with by the heavy-handedness shown by the previous regime," said MDP chairperson Mariya Ahmed Didi.
For his part, Bari points to Washington for an example of how things can go wrong. The Bush administration's choice of war over negotiations "caused a counterproductive effect in the Muslim world," he said.
"I believe that it has lent credibility to the deception propagated by certain militant groups to justify terrorism," while the Obama administration is "trying to reach out to the Muslim world and redefine `Islam' in decent official terms."
Bari said the choice to fight extremism in Iraq, Afghanistan and Pakistan with military force is "regrettable."
"Look at Saudi Arabia, which, having used force initially, has now realized that that's not the way," he said. "They are focusing on teaching true interpretation of the religious text."
While Saudi Arabia is home to Islam's holiest sites, the Saudi embrace of Wahhabism is viewed with suspicion--even regret--by many Islamic scholars and leaders. What's more, the success of the Saudi rehabilitation model is debatable.
Said Ali al-Shihri, a Saudi man who was one of the first detainees at Guantanamo Bay and was released to a Saudi rehab program in 2007, is now believed to be a leader of the Yemeni branch of al-Qaida that was behind the failed Christmas Day plot to bring down a U.S. airliner over Detroit last Christmas.
Terrorist experts say such rehab programs can be part, but not all, of the solution.
"Jihadist rehabilitation efforts are good, but they cannot stand alone--we also need military and police action against violent groups," said Paul Marshall, a senior fellow at the conservative Washington-based Hudson Institute.
"After all, the jihadists are there for rehab because they were captured by men with guns. And we also need economic development, especially in sensitive regions. We need to fight at every level."
Related
Popular in the Community