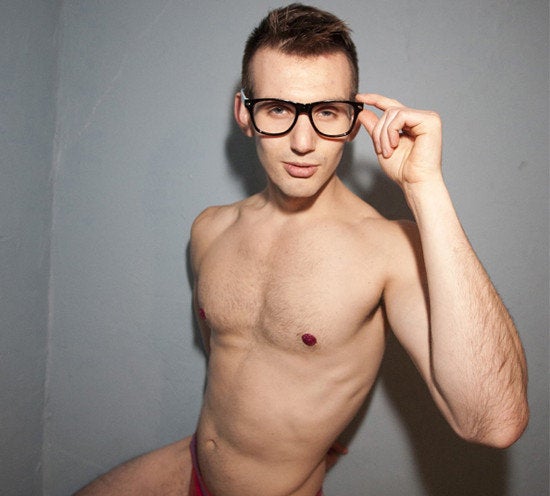 I'm staring at the ass of a man named Suffra Gent, who's bending over in front of me. The manly hair on his legs is squashed under full-length, pink, stretch tights. He leans upwards and begins fidgeting with a tie and dress shirt, trying to cover the protruding pink pasties stuck to each of his nipples.
Next to him, a man calling himself Kevin Jesus attaches inflated balloons to his body, one by one, using tape, slowly covering himself.
"I'm so frustrated!" says Gent.
"That's sexual frustration!" answers Jesus, beneath his growing mountain of balloons.
It's back-to-school time for these boys, who, on this Monday evening in a hallway outside a dance studio in Williamsburg, Brooklyn, are among the students at "Boylesk 101," a seven-week course that teaches step-by-step, detailed lessons on creating a male strip act, or male burlesque (aka "boylesque," for those in the know). At tonight's workshop, performers and scenesters go by names like Jack Nasty, Lewd Alfred Douglas, GoGo Gadget, Brooklyn Irons, and Matt Knife.
In boylesque, the clichés and stereotypes of male sexuality are slanted into fresh perspectives, with humor as a tilting point. The genre seems more in line with humorous drag performers than go-go boys; "beefcake" is a subject artfully parodied rather than showcased at face value.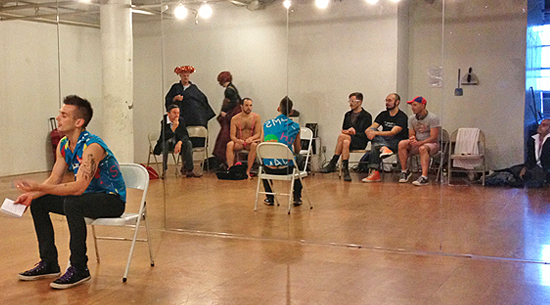 The course is the brainchild of Chris "Go-Go" Harder, an entrepreneurial NYC nightlife fixture who, within a few years of arriving here from North Dakota, has initiated a unique spin on the cliché of go-go boys dancing on boxes in gay clubs. His rise in the nightlife scene, and in predominately female burlesque scenes, has redefined gender lines and fueled an interest in male dancers who are beginning to be seen more as performers with acts than just jiggling decoration (not that there's anything wrong with jiggling boys!).
"OK, we'll see the first drafts of your routines tonight!" Harder announces to the class. "Big openings! Big endings! Like we discussed last week. Then later we'll be having a rhinestone demo, and at the end we're going to have a towel-off!"
Up first for class critique is performer Jack Nasty.
A red cardigan sweater hangs on a coat hanger in the center of the room. The familiar strains to the theme from Mister Rogers' Neighborhood chime through the studio's sound system. Jack casually walks on stage dressed in a business suit. Sitting in a chair, he mimics Mister Rogers' famous intro to the show, changing out of his work clothes into the sweater and loafers, pointing into the audience. The class loves it. Nasty then continues Mr. Rogers' original soft-strip way past the point of television airability, the music segueing into a punk version of the theme and Nasty explosively removing every piece of clothing, ending with a near-nude Mr. Rogers, wearing only his black socks and 50s haircut, bowing to the whooping class. His routine is a crowd pleaser.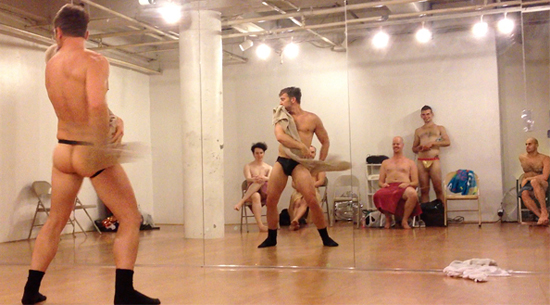 People take notes as others offer opinions. Someone makes a brief mention of using Mister Rogers' sock puppet character Henrietta Pussycat as a surprise g-string "reveal," to laughs.
"You took of your pants flawlessly!" says GoGo Gadget, a dance and theater performer and alumnus of the first Boylesk 101. Indeed, a challenge for male strippers is removing real pants and making it not look awkward.
"The first half was excellent. Work on the second half's character development," suggests Harder.
"I realized Mister Rogers' classic opening was already a sort of soft-strip," Nasty tells me later. "He was a middle-aged man living by himself, and all his friends were puppets, dolls, and children, so you had to wonder."
"Growing up as a kid reading all these gay lifestyle magazines, it was obvious that there was a glorified body type of ripped abs, blond hair, and blue eyes," says performer Brooklyn Irons, a professionally trained dancer leaning toward the male burlesque scene. "One of the reasons I like male burlesque is there is a diverse range of body types presented."
It's true. The assembled class hardly reflect the typical "go-go boy" body. Most have already performed around town, yet only one has a typically worked-out physique. The rest are large, small, firm, lumpy... even young and old.
"There are absolutely no body type or age requirements in boylesque," says Harder.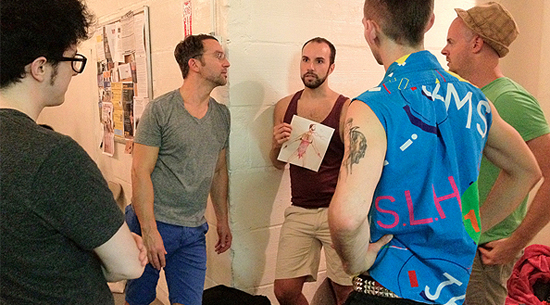 Next up is performer Suffra Gent.
Harder cues up his song: Aerosmith's "Pink." Suffra pops out from behind a column in his dark, Wall Street-style suit. Feigning nausea, he pulls out a bottle of Pepto Bismol. He drinks from it seductively as he spills and licks it off his fingers. Inspired, he bursts out of his suit and dances flamboyantly, alternately peeling endless layers of pink clothing. He then leans back in a chair and pours the entire bottle of Pepto Bismol over himself, à la Flashdance. Everyone bursts into applause.
"I love Boylesk 101," Gent later tells me. "It's a virtual Hogwarts for naughty boys!"
A male version of Showgirls is no doubt in the works.
Next up is Lewd Alfred Douglas, a performer and authority on queer history.
Set to a Ruska Roma gypsie song, Douglas enters the stage dressed as a character from Russian history named Basmanov, a bodyguard for Ivan the Terrible who would often dress like a woman and dance for Ivan's entertainment at court parties. Wrapped in satin robes and belts, Douglas mesmerizes, slowly pirouetting with a surreal female mask in front of his face, using the quiet moments in the song to pause and establish laser-like eye contact with the crowd, remove another layer, then rev everything up again.
"I loved the gender folding," says Matt Knife, a producer who hosts a boylesque night at the Stonewall Inn. "It was like a reverse striptease."
"Most of my acts are based on some facet of queer history," Douglas tells me later. "I'd love to eventually do a male strip act as a Shakespearian actor playing a woman."
"Male performers are lucky, because we don't necessarily have a classic male burlesque form to model our numbers off of," Harder tells me. "And we're also unlucky, because we don't have a classic male burlesque form to model our numbers off of."
His stratum of balloons sheathed in a black cloth, he casts a Leigh Bowery-like silhouette as he rises from his chair to Depeche Mode's "Personal Jesus," tossing Swedish fish and hot dog buns at the crowd. Unveiling a glittering crown of thorns on his head, he uses it to slowly pop each balloon, revealing his naked flesh beneath, a kind of Resurrection-of-Christ-by-way-of-Sally-Rand act.
"Amen!" says the class in unison, applauding with laughter.
"Fearless! You seemed at ease with each layer," notes Brooklyn Irons.
"Be wary of tossing any kind of food into the audience that can be used as a weapon," Harder adds, speaking from experience. "Crusty bread can be razor-like if it's thrown back at you. And it might!"
Everyone writes this down.
When the boys return next week, these routines will be expected to be more refined. The end of the course will culminate in a performance of all their acts in a nightclub, hosted by Harder.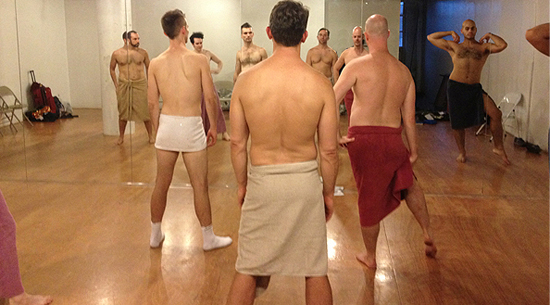 During the "towel-off" that follows, Harder and the students face the mirror and learn the finer points of removing a towel and using it as a prop. Harder calls on individuals with questions.
"Lewd, can you name a way to indicate one's crotch without touching it?" he asks.
"So now, uncover the bacon," he continues, demonstrating in the mirror. "Is that what I called it last week? Or was it 'pigs in a blanket'?"
Rather than just discarding the towel, he illustrates a way to rhythmically roll it up while he spins his hips in time, turning an ordinary moment into something hypnotic, funny, and entertaining.
"Now hold the towel in front of you," Harder instructs, looking in the mirror. "Bite it seductively."
"Ahhrrr!" the class say in unison, all biting their towels.
"Now, our asses are exposed," continues Harder. "How do we animate our buttocks for the audience? As I showed last week, on the balls of your feet, alternately lift and lower each heel, heel to ball, faster and faster..." Harder rapidly increases this motion until his well-formed buttocks literally dance like basketballs in a perfectly symmetric, alternating motion, and the rest of his body remarkably appears nearly motionless.
"Now, all of you try it," he says, calling out the rhythm.
The room literally rumbles as the entire class rhythmically stomps their feet on the wood floor. A blur of male buttocks jiggles in meteoric unison before my eyes, reflecting into infinity in front and in back of me in the studio's alternating mirrors.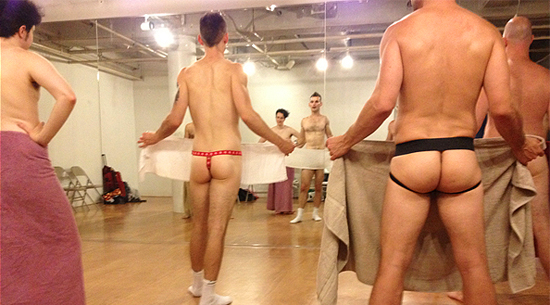 On our walk to the subway after class, I ask Go-Go Harder if there's a male burlesque circuit in NYC gay clubs that these performers can utilize.
"Definitely!" he says without thinking about it, his eyes lighting up. Indeed, most of the chatter I heard before and after class was people swapping info for upcoming gigs and getting bookings.
Is it a challenge to help gay men overcome inhibitions about showing their body on stage?
"Well, no," he levels with me. "Look, if you're taking my course, you probably moved to New York on a risk, right? That alone is a lot harder and requires a lot more choreography than taking your clothes off onstage."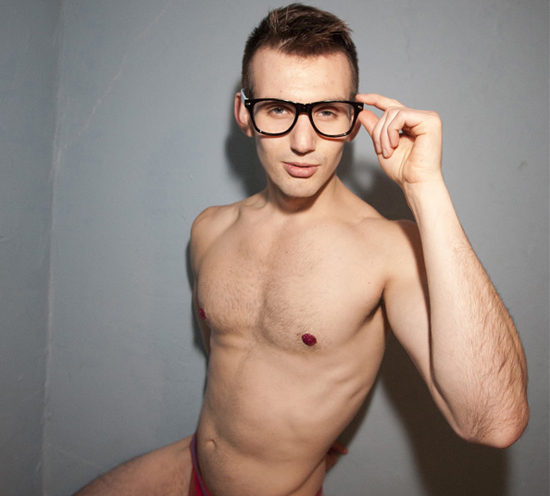 Popular in the Community