Remember the golden age of the gay male athlete? Me neither. Don't look now, but it's been four years, and the revolution never actually came.
It is beyond debate that nearly every professional athlete has at least one gay teammate. Gallup reported that last year, 4.1 percent of the American public identified as LGBT, or approximately 10 million people. That averages out to 2.2 players on every 53-man NFL roster; 0.5 players on 13-man NBA rosters; and one on every 25-man MLB roster.
In 2013, it seemed that sports was primed for major change on LGBTQ issues. NBA veteran Jason Collins came out, as did Major League Soccer's Robbie Rogers, and University of Missouri defensive end Michael Sam, prior to being drafted by the St. Louis Rams. Surely, more pioneers were about to emerge. But none did.
"It felt like, oh, here we go," said Cyd Zeigler of the website Outsports. "And then …"
Zeigler and I were kicking around possible reasons. He is probably the foremost writer on the issue, and I spent much of the past decade in pro sports locker rooms. I frequently observed, and sometimes wrote about, what I saw as deeply embedded homophobia; it was evident in how guys tossed around the word "fag," and in the conversations I had with Christian athletes who said they did not agree with the gay "lifestyle."
When I mentioned all this, Zeigler pushed back hard.
"The media is a problem and this interview is an example of that," he said. "Most of your questions are about how hard and bad it is. They're negative."
He makes a point, and we'll circle back to it. But in interviews with Zeigler and other prominent figures in the LGBTQ sports community, it was clear that everyone's first answer to the big question ― Why hasn't significant change happened in men's sports? ― was that no one quite knew, but all were surprised by the lack of progress over the past four years.
Some speculated that the conservative blowback after Sam kissed his boyfriend live on ESPN, and the fact that he never officially made it onto an NFL team's roster, might have served as accidental deterrents. The divisive political climate in the Trump era hasn't helped. A casually homophobic locker room culture persists, sowing fear among gay athletes about how teammates would handle their sexuality. And the strong presence of a certain strain of Christianity, especially in baseball, complicates any gains.
"It's easy to generalize and say, 'Oh look at how great it is to be gay in 2017,'" said Billy Bean, Major League Baseball's vice president for social responsibility and inclusion, and a former player who did not come out publicly until after retiring.
"But I think that we are in a very, very volatile time," Bean continued, "and maybe last year, you had five players who were much closer [to coming out] than they are this year, because the way the world and our country seems to be divisive toward a whole multitude of things."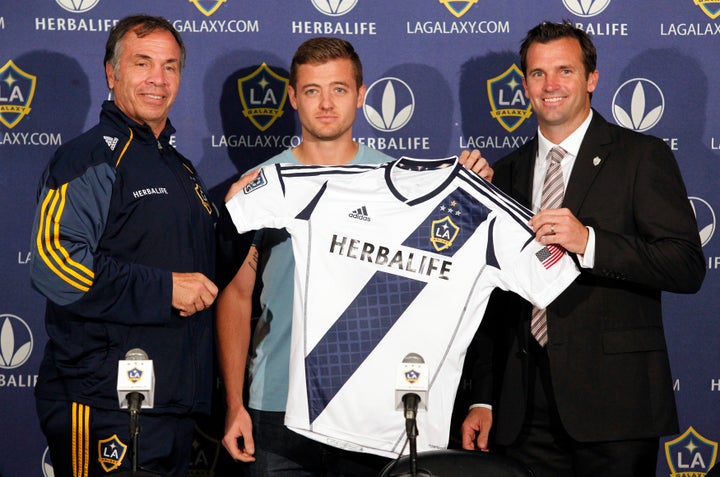 Rogers, who plays for the Los Angeles Galaxy, is currently the only openly gay male athlete on a major U.S. professional sports team. Women's sports are a different scene: As Rogers pointed out, women's soccer has several stars who are out. "You have Abby Wambach and Megan Rapinoe, and all the women are doing really well," he said.
The WNBA also has prominent LGBTQ players. Earlier this year, star Sue Bird came out and announced she was dating Rapinoe. Men's sports ― defined as they are by an old-school macho culture ― lag behind; can you imagine an NFL quarterback announcing that he's dating an NBA point guard?
Rogers came out after many years of wondering if it would leave him excluded from locker room culture, which so often involves anti-gay slurs and graphic sexual chatter about women. But it turned out that his experience was far more positive than he expected, and that teammates quickly stopped using casually homophobic language.
"I just remember how scary it was for me when I was closeted, and what the locker room was like before that, and the things you hear," he said. "It slowly chips away and scars people. You're just fearful. Very afraid. I've heard for all my career homophobic things, but when I came out, it just totally stopped."
Rogers has since heard occasional taunts from fans, and engaged in a few difficult conversations with opposing players about their religious objections to homosexuality. But his teammates have supported him. So why haven't others followed?
"I'm surprised," Rogers said. "I felt like with Michael and Jason and myself … I was predicting that maybe every year someone would come out. But in men's sports, it's just me right now."
One deterrent, he said, is an outdated view of manhood, and the fear of not fitting in.
"From a very young age, we're raised to be part of this team, and part of this atmosphere, and to be good teammates," Rogers said. "At least in boys' sports, it's like a little club. I didn't want to be on a team and be an outsider. I didn't want guys walking on eggshells around me, or whispering. I tried so hard to just fit in."
"There is still that stereotype of what is a male professional athlete," he added. "And at the moment ― although it's changing ― gay is not part of that stereotype, obviously."
"I didn't want to be on a team and be an outsider. I didn't want guys walking on eggshells around me, or whispering. I tried so hard to just fit in."
Bean adds that jobs in pro sports are difficult to earn, and an athlete's physical prime is brief. It is stressful enough to try to hold onto a roster spot without becoming a pioneer or spokesman.
"By the time a player gets to that level, there are so many things at stake," Bean said. "When you see you're one season away from getting a four-year contract, or even getting the chance to play every day … I know what's in the mind of a player who is just not ready to put it all out there, and isn't ready to not only become a role model for millions of people, but also put his personal life out there for the consumption of a lot of people who really don't have any interest in taking care of that person."
In other words, it's easy for a pundit or advocate to tell an athlete to speak out, and risky for the athlete to actually do it. He is busy watching video of his performances, traveling, answering to the media, working his way out of slumps, trying to please his coaches and hang on to his job.
But despite all this, Zeigler notes the many stories he has published on Outsports that followed the same basic arc: An amateur athlete is terrified to come out, takes the plunge, and is amazed by the love and support that flows from teammates.
In order for this to happen more frequently at the pro level, Zeigler said, gay men have to realize that many of their worries are based more in fear than reality. This year alone, five college football players ― including two in Division I ― are out, and none have reported problems.
"There are two ways to accelerate this," Zeigler said. "One, people have to stop using [homophobic] language, and they have to stop talking about sex with women all the time in the locker room. Those are two easy things that affect every gay athlete. Just check their language, be more professional. One of your teammates is gay, period, and how do you think that makes them feel? And then gay people just have to come out. That's their role in this. Just come out and be out."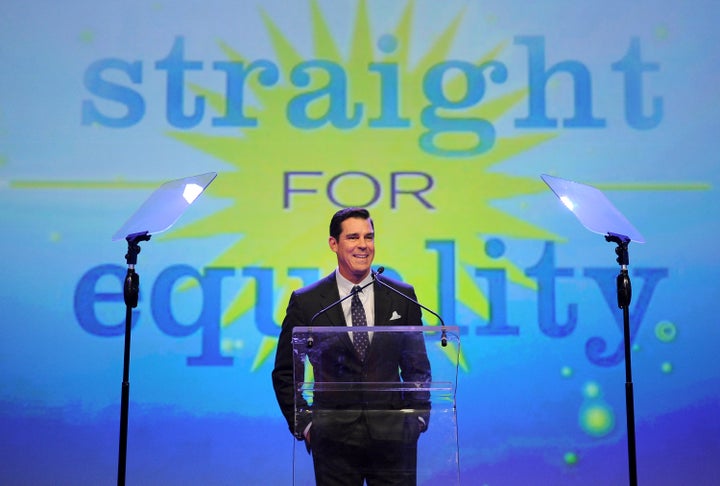 Zeigler and I went back and forth on this for a bit. I wanted to buy into his optimistic message, but couldn't help but think of my years in locker rooms observing casual homophobia and right-wing religious views. "Most of us are still Neanderthals," one New York Mets player said to me in 2011.
The bigots are not exactly hiding. In 2012, the Los Angeles Times quoted the since-retired outfielder Torii Hunter saying that if he had an openly gay teammate, he would be "uncomfortable because in all my teachings and all my learning, biblically, it's not right." Two years later, he recorded a radio ad for Arkansas Republican gubernatorial candidate Asa Hutchinson, complimenting Hutchinson for wanting to keep marriage "between one man and one woman."
Another prominent former baseball star, Lance Berkman, has taken bigotry in the name of religion even further, campaigning against an equal rights ordinance in Texas that would have prohibited discrimination based on gender, race, religion, pregnancy, sexual orientation and gender identity. Discussing the issue of transgender people's access to the bathroom of their choice, Berkman said that because he was the father of four daughters, he did not want "troubled men to enter women's bathrooms, showers and locker rooms."
On another occasion, Berkman said, "You get called a bigot and intolerant and all that stuff … To me, tolerance is the virtue that's killing this country. We're tolerant of everything."
This year, the St. Louis Cardinals invited Berkman to speak at their "Christian Day" event.
Hunter, meanwhile, has long been a darling of the media. A few years ago, several members of the Baseball Writers Association of America's New York chapter pushed for him to receive the organization's annual "Good Guy Award." Other members raised concerns about Hunter's anti-gay comments, and he did not ultimately receive the award. But his very nomination shows the lack of seriousness with which many in sports regard homophobia.
One can imagine how gay players feel about Berkman and Hunter not only holding these views, but remaining well-liked and accepted by people who hold power and influence in the industry. It's hardly an incentive to reveal sensitive personal information.
But Zeigler believes that I interpret the climate too negatively, and that a great deal of homophobia fades when being gay is less abstract, and humanized by an actual friend or teammate. By writing about the environment for gay athletes as hostile, rather than describing it as more complex, I and other journalists could even be reinforcing the fears of gay athletes and preventing them from coming out.
Point taken. And to be fair, Rogers' experience in MLS does largely support Zeigler's view.
Bean, who played from 1987 to 1995, also notes progress in sports culture.
"We're moving this conversation in a way that is different from the 1980s and '90s, trust me," Bean said. "The way that we used to talk, or the talk that was allowed. The way we talked about women. All that stuff is changing, and we're giving each other a really solid place that will allow for these kind of decisions to happen more freely."
But big social change does not happen without interruption, or complication. Rogers certainly did not expect to be the lone openly gay man in American pro sports by 2017.
As he puts it, "I think people feel more empowered to be racist, to be homophobic, to be sexist at the moment. But I know [more athletes will come out]. I just don't know when, because it's been a while."
CORRECTION: A previous version of this story misidentified Asa Hutchinson as a gubernatorial candidate in Texas, rather than Arkansas.
Popular in the Community