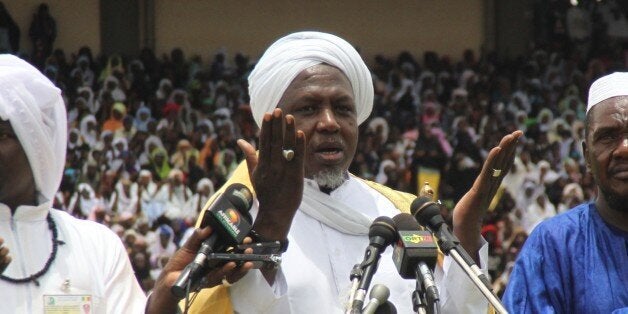 BAMAKO, Mali -- When radical Islamists surged across northern Mali last year, temporarily seizing control of major cities and imposing a harsh form of religious law, they earned a stern public rebuke from an unexpected religious source.
"What right do they have to take up arms to tell us how to practice Islam in our country?" Mahmoud Dicko, the head of Mali's High Islamic Council, said in an interview at the time. "What right do they have to impose the Shariah here?"
It's a view the imam still holds strongly.
"It was a bad form of the religion," said Dicko, referring to the foreign jihadists, in an interview with The Huffington Post earlier this month. "Even if it's Islam, it's not our way of Islam."
But if Dicko's continued condemnation of the northern Islamists' approach has been welcomed by the population in southern Mali, it has also taken some by surprise: In the capital city of Bamako, where he is based, Dicko is often cited as a potent symbol of the rise of a more assertive, conservative strain of Islam, which has quietly seeped across southern Mali and threatens to permanently alter the identity of this free-spirited nation.
Indeed, since taking the reins of the High Islamic Council a few years ago, Dicko has overseen a notable evolution in Mali's traditional religious practices, as more and more Malians study at religious schools funded by Gulf Arab states, a growing number of women wear head coverings and -- perhaps most significantly -- a strong-willed bloc of domestic Islamists, led by the council, has achieved substantial political clout in a country that is still officially a secular republic.
"The Wahhabi infiltration is here in the south, too," said Issa N'Diaye, a prominent Bamako-based academic and political analyst, describing a type of ultra conservative Islam that has been spread by well-financed Gulf Arabs.
"They do all sorts of social actions: building mosques, digging wells, putting up hospitals," N'Diaye said. "They're taking action in places where the state has been absent. At first it was a good thing, but it only grew and grew. Soon those organizations gained political power." The traditional sources of political power, he lamented, "are losing influence."
Dicko hardly denies this to be the case. He just sees an important distinction between what happened in northern Mali and what's going on in the southern regions.
"The problem there, in the north, is that they wanted to create a kind of standard Islam for all people -- and they will not get that," he said. "The truth of the matter is the Malian people don't like imposition of any kind -- religious, cultural, any of it. They don't like being told what to do."
Dicko, who is in his late 50s, believes in the power of influence and persuasion, not force.
"Sure, Islam in Mali has become more conservative," said the imam, as he reclined, dressed in a simple blue robe, in a sitting room of his understated home in suburban Bamako. Incense filled the air. "But one has to take into account the evolution of the religion around the world. Many young Malians travel abroad now to study -- to Sudan, to Saudi Arabia, to Morocco -- and the impact of what they see in the world is, of course, going to influence them."
In the 1970s, according to a recent paper by Alex Thurston, a Northwestern University researcher on Islam in West Africa, Dicko himself studied abroad for many years in Mauritania and Saudi Arabia. When he returned to Mali, he took over a popular and influential Islamic radio station in Bamako, which he used to spread his views to the public in the 1980s and 1990s.
Thurston suggested that the anxiety of Bamako's intellectual elite about the sudden rise of a powerful Islamic bloc may be somewhat greater than the circumstances merit: The influential reach of Islam into Malian politics dates back at least two decades, to the creation of the first state-sponsored Islamic organizations.
But in recent years, conservative Islamic forces have certainly begun to take on a more prominent, even coercive, role in Malian society. Muslim groups have protested against bars and restaurants that serve alcohol in the vicinity of mosques. At least one such establishment was burned down by an angry mob, residents say.
In 2011, in their most significant move yet, Islamic organizations led a controversial charge against a bill that would have modernized Mali's "family code," which regulates matters like women's rights and rules of inheritance. The bill, initially passed by the parliament in 2009 with wide backing from women's rights groups, faced an unanticipated wave of protest upon being presented to the public. Two years later, it was withdrawn.
Dicko did not deny that the Islamic High Council played "a very large role" in defeating the family law and that it did so because it felt the bill violated tenets of "our religious faith." But he insisted, as he did repeatedly throughout the interview, that the council was merely acting as a conduit for the evolving desires of Mali's population, not as an enforcer of its own views.
"When the people understood what was in the law, they said no. They were against it," he said. "We -- and by that I mean the High Islamic Council -- we simply served in between the people and the power."
"Our society is a good one, but we have bad governance," Dicko went on. "If the politicians are not able to put our social values into the government system, to get a kind of balance between modernism and traditional values, that will result in some misunderstandings and challenges."
The imam mentioned the recent actions against bars. It is only common sense, he argued, that places serving liquor be banned from operating within a certain, reasonable distance from mosques. But he said he initially held off his followers from directly confronting bar owners, urging that they not take the law into their own hands.
"There were people who did want to destroy bars, but I said, 'No, we must first find out what the law is,'" he recalled. What they found, he said, was that many of the offending bars lacked proper licenses. "We are just calling for the administration to pay attention to the laws that already exist."
It's a perspective that suggests the worst fears of Mali's intellectual elite -- that a southern invasion of radical Islam is underway -- may not be quite right, but at the same time, the society is changing. And it's a change, Dicko argues, that's happening on its own.
He added, "I want everyone to understand that in today's world, we don't need violence to change things. We have ideological debates, we have public space, we want to lead people through these teachings, not compel them."
REAL LIFE. REAL NEWS. REAL VOICES.
Help us tell more of the stories that matter from voices that too often remain unheard.
BEFORE YOU GO
PHOTO GALLERY
China National People's Congress