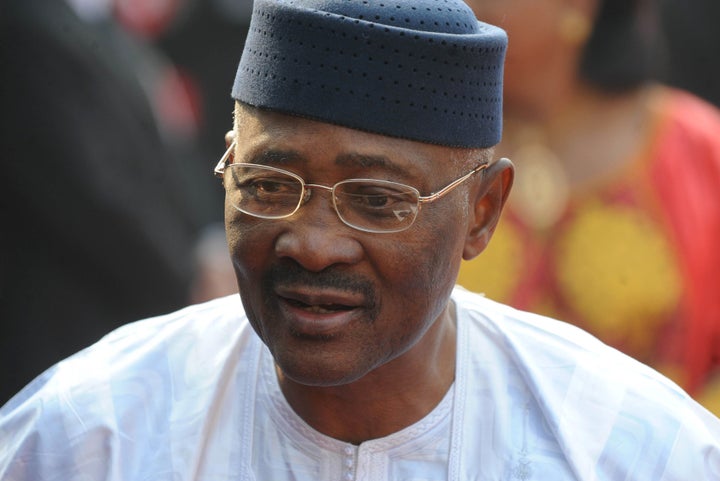 BAMAKO, March 21 (Reuters) - Mali surrounded its presidential palace with armoured vehicles on Wednesday as heavy gunfire rang out across the capital Bamako and in a nearby barracks, Reuters correspondents said.
Correspondents heard 10 minutes of automatic gunfire coming from close to the state broadcaster, whose programmes went off air. Soldiers blocked the path towards its premises.
The incidents came amid growing anger in the army at the government's handling of a Tuareg-led rebellion in the north of the country that has claimed dozens of casualties and forced nearly 200,000 civilians to flee their homes.
One military source said one trigger for the events was a visit by the defence minister to a barracks in the town of Kati about 20 km (13 miles) north of Bamako.
"The minister went to speak to troops but the talks went badly and people were complaining about the handling of the crisis in the north," the source said of the visit.
Three armoured vehicles stood in the street blocking the main entrance to the palace of President Amadou Toumani Toure. A Reuters vehicle trying to get out to Kati from the capital was stopped at a checkpoint on the way.
"There are soldiers who are shooting in Kati. It is not safe," a solder at the checkpoint said, without giving any further details.
Bamako was briefly paralysed last month as hundreds of Malians put up street barricades and burned tyres in the streets to protest at what they say is the weak government response to the rebellion and the poor equipment of the army.
Tuareg rebels seeking to carve out a desert homeland in Mali's north have made advances in recent weeks, including the seizure this month of the key garrison town of Tessalit by the Algerisan border.
The MNLA rebel movement has been bolstered by heavily armed Malian Tuareg returning from fighting alongside forces loyal to Muammar Gaddafi forces in Libya.
The clashes have added a new layer of insecurity to a zone awash with smugglers and plagued by fighters linked to al Qaeda and is expected to complicate presidential elections in April. (Reporting by Tiemoko Diallo and Adama Diarra; Writing by Mark John; Editing by Karolina Tagaris)
Calling all HuffPost superfans!
Sign up for membership to become a founding member and help shape HuffPost's next chapter