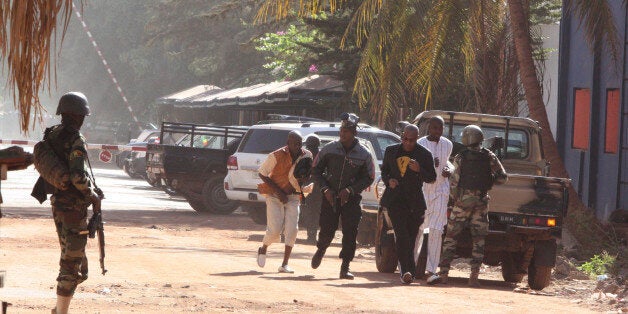 Friday's hostage crisis in Bamako has launched Mali back onto front pages and social media feeds. Unfortunately, the crisis runs deeper and farther than the today's tragic assault.
The attack is sadly part of an escalating pattern. United Nations peacekeeping troops in the nation have regularly been the target of extremist groups and suicide attackers. In fact, the UN mission in Mali has suffered 68 fatalities since it first deployed in July 2013, including 40 attacks by militant groups. In August, for example, gunmen ambushed a hotel in central Mali used by UN staff, killing five. Mali is arguably the most dangerous peacekeeping mission in the world.
As experts ponder what today's assault means for the ongoing--and likely growing--terrorist threat in the region, we must maintain strong support for the UN presence and notably peacekeepers, who were among the first responders today, and who are serving daily on the frontlines in a terrorist hotbed.
Following political violence and a coup in 2012, this peacekeeping mission was authorized with strong American backing. At its onset, the U.S. was still reeling from the early 2013 loss of two American workers at a BP gas facility, killed by Mali-based jihadists with ties to al-Qaida.
Since then, the U.S. has continued to be a strong supporter of the mission, and UN "blue helmets" have made measurable progress under their mandate to support a free and fair political process. They created the political space for the Malian government to enter meaningful peace talks with rebel groups. And progress appeared evident this August when the UN mission provided technical and logistical legwork to facilitate a successful democratic election. Unfortunately, jihadist groups continue to act as spoilers to the peace process, launching attacks against the UN and against civilian targets -- like hotels and businesses. What's more, peacekeepers in Mali are not alone in these dire challenges. More and more UN peacekeeping missions are taking place in dangerous and remote environments around the globe. In fact, two-thirds of all peacekeepers are currently deployed to areas experiencing active conflict, and they are increasingly viewed as targets for attack.
Today's events underscore the challenges of peacekeeping and the importance of U.S. leadership. We must continue to support UN peacekeeping troops in their daunting yet vital task to protect civilians and advance a fragile but necessary peace agreement.
Related
Popular in the Community