Want to be in the presence of greatness? Have great FREE lunch and be inspired by one of the most inspirational woman you can come in contact with? http://www.tinyurl.com/msgarcesinmalibu
ABOUT THE KEYNOTE SPEAKER:
Catherine Garces has 3 kids Sebastian wants to be a Entomologist, Sabrina a OB Gyn and Santiago an Architect. Catherine was born in New York studied abroad in Ecuador came back to the US to finish her studies. She attended Catholic schools and graduated from Christ The King Regional High School and got her degree on hotel &restaurant management and got a scholarship offer to attend Cornell University.
Catherine has worked on several industries such as fashion, jewelry, art and international business trade.
At an early stage of her Catherine worked with her dad where she learned the business world. She quickly learned that the exporting and importing business was not for her even though she learned so much.
Always has been involved in leadership programs since a very young age. One if her best experience was to share ideas with the Senator of New York in her last year in high school.
Catherine passion and focus is to teach the Latino community and women the importance of life insurance and retirement. It is very meaningful to her because of past experiences.
Catherine has received recognition from Mayors from several cities in California and from the Police department in Los Angeles due to her committed work during her management position in New York Life. She was able to work with over 20 YMCA across LA providing the Child ID program (safety for kids).
She believes that helping others is how you feed your soul. It's hard to change the world but not impossible but it's easier to change someone's life. She always tells the ones she loves the sky is not the limit there is always the Universe.
Ms. Garces was recently featured on a magazine where she was recognized as a woman who is creating awareness in the community.
Catherine also participates with a program in Santa Ana where she dedicates a part of her time helping the homeless.
She loves to travel and spending time with family. Her kids are her best work of art.
One of her major strengths in life is her faith and hope in God.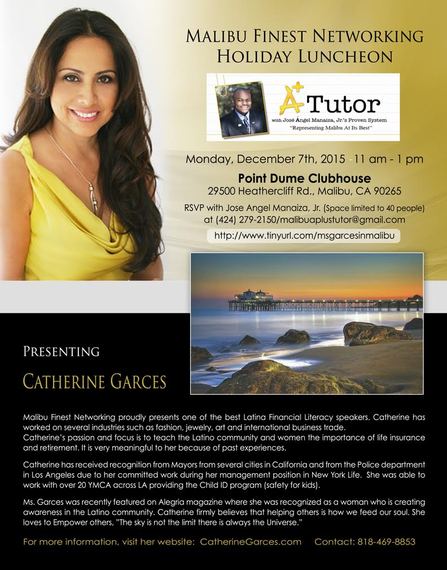 REAL LIFE. REAL NEWS. REAL VOICES.
Help us tell more of the stories that matter from voices that too often remain unheard.