A former high school football star convicted of raping a 16-year-old girl is now playing the sport in college, angering some fellow students.
Students at Youngstown State University in Ohio are protesting the addition of Ma'lik Richmond, 20, to the school's football team with a Change.org petition. The petition asks the school's president, Jim Tressel, and the head football coach, Bo Pelini, remove Richmond from the team.
Four years ago, Richmond was one of two players on the football team at Steubenville High School in Ohio convicted of digitally penetrating an intoxicated 16-year-old in 2012.
"For many years, athletes have constantly been given additional chances because they are athletes. What does this say about rape culture? That athletes can do no wrong; that they can get away with anything because of how they perform on the field or in the gym?

Does he deserve a second chance? Yes, he does, and he is receiving that second chance by furthering his education on YSU's campus. Does he deserve the privilege of playing on a football team and representing a university? Absolutely not. Education is a right, whereas playing on a sports team is not."
Richmond, a defensive tackle, enrolled at YSU last year and joined the football team last January.
Katelyn Davis, the student who started the petition, said she doesn't believe that convicted rapists should be on the school's sports teams.
More than 6,600 people have signed the petition since Davis posted it on Saturday.
"I did not expect this petition to take off in the way it did," Davis told the station. "I'm glad this petition is able to give a voice to the community."
HuffPost reached out to Tressel, the former head coach at Ohio State University, and Pelini for comment; neither immediately responded.
Pelini told WFMJ-TV that Richmond deserves a second chance and that the player had to live up to certain stipulations in order to make the team.
"He did those things and continues to do those things right now and he's done a nice job for us," Pelini said.
The coach did not detail the stipulations.
The message has since been removed, but here's a screenshot.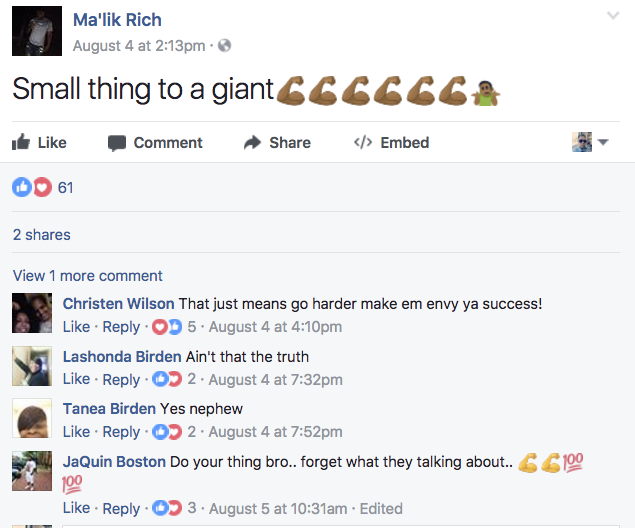 The Steubenville rape trial gained national attention, in part because of the online posting of photos and videos that showed two males carrying the inebriated victim by her wrists and ankles while other teens made jokes at the girl's expense.
The newspaper says Richmond has to register his address with the appropriate sheriff's office, but that juvenile offenders are not listed online, even after they turn 18 years old.