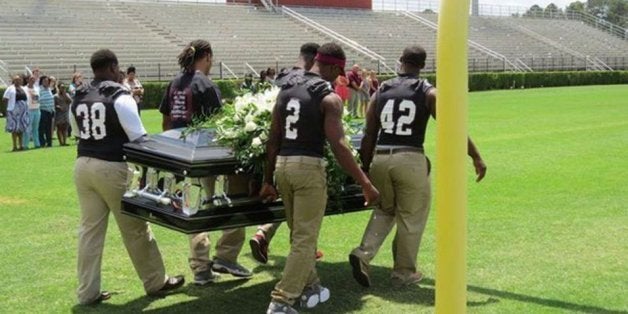 Last Sunday was a day of mourning for residents of Coffee County, Georgia, as 18-year-old Malik Sparkman was laid to rest that afternoon. Sparkman, a football player at Coffee High School, lost his battle against cancer on May 17.
Before he died, however, he had one final request: He wanted to go through the tunnel at Coffee High School's football field with his teammates just one last time. On Sunday, the Trojans' linebacker got his wish.
In front of family, friends and coaches, Sparkman's teammates solemnly carried his casket through the tunnel and across the middle of the gridiron. Sparkman, who would have been a senior next season, was being recruited by Florida State to play football, according to Fox Sports.
Teammates carry Sparkman's casket across the field. While composed then, emotions spilled out at the funeral, which was attended by over 500 people (Source: YouTube)
Sparkman had renal medullary carcinoma, a rare type of kidney cancer often associated with sickle cell trait.
An outpouring of tribute messages appeared on social media following the ceremony:
"They're hanging in there as a team. It brought their team closer. They're strong," Williams said. "They did take it hard at the funeral, but they know he's not suffering anymore."
Calling all HuffPost superfans!
Sign up for membership to become a founding member and help shape HuffPost's next chapter