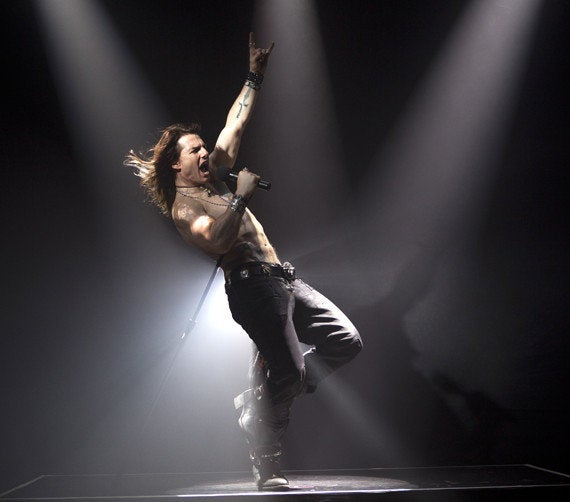 So, he's not only an action hero and couch-stomping dramatic thespian, Tom Cruise is a "f*cking rock star," now, too?
Well, if anyone would know, it's Malin Ackerman, his "Rock of Ages" co-star and duet partner. She plays Constance, a naive journalist who falls for Cruise's 80's rock star Stacee Jaxx in the upcoming, star-studded big screen adaptation of the hit Broadway show, and the two sing together on "I Want to Know WHat Love Is," by Foreigner.
"You will be shocked," she told E! Online of Cruise's singing chops. "I kind of wasn't that surprised, because when Tom does something he does it 150 percent. So he really just brought his f*cking game and he sounds like a rock star. I'm not kidding. He could be an opera singer if he wanted to. His voice is really powerful."
Director Adam Shankman recently echoed Ackerman's praise for Cruise, telling Entertainment Weekly, "It wasn't until our first go around with his voice lesson that we sort of looked at each other and went, 'This is gonna work!' And we were basically dancing around the living room and high-fiving each other because he actually has a fantastic voice. His grandfather or his great-grandfather was an opera singer, so apparently he's genetically predisposed for this sort of thing."
Cruise will have to bring his game in a different way for a newly announced film; he'll be playing badass ex-Marine Jack Reacher in "One Shot."
Calling all HuffPost superfans!
Sign up for membership to become a founding member and help shape HuffPost's next chapter