For San Francisco audiences, Czech composer Leoš Janáček's Jenůfa is (as Gershwin would put it) "a sometime thing" - last appearance being fifteen years ago, during the winter of '01. The production by Francesca Zambello featured Patricia Racette and evergreen tenors Richard Berkeley-Steele as Laca and tenor Jay Hunter Morris as Steva. Before that, in September 1986, famed Czech soprano Gabriela Benacková sang Jenůfa and Leonie Rysanek pulled out the stops for Kostelnička. And in the background as the Old Shepherdess - now superstar Deborah Voigt, then fresh out of the Merola Opera Program. The Company's first showing of Jenůfa in 1969 ran for three performances - with an English libretto. (Supertitles had not been invented yet.) Imagine! "Jenůfa is unlike anything I've ever done," said Malin. "I've never had to dig so deep."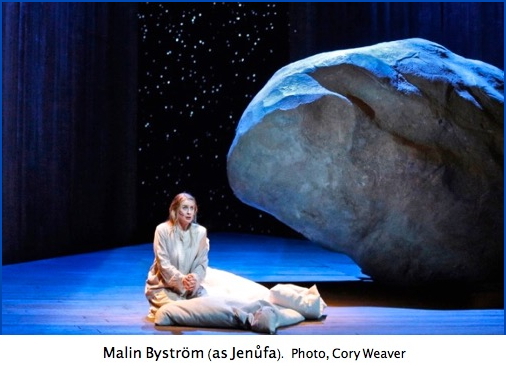 About four years ago, General Director David Gockley secured Swedish soprano Malin Byström for the 2016 production of Jenůfa - specifically for the closing weeks of his tenure at San Francisco Opera. At the time, her critically acclaimed portrayals of some of opera's most complicated women added up to her making a stunning Jenůfa - a character whose journey is confounded by tradition and religion. During the interval, in 2014 at Covent Garden, Malin was Donna Anna to Polish baritone Mariusz Kwiecień's Don Giovanni. The fantastical / devastatingly-mad production designed by Es Devlin has been preserved on DVD and Blu-Ray. In this digital maelstrom, Malin's exquisite voice and consummate musicianship reveal the infinite beauty, the perpetual fire within unadulterated Mozart. With Placido Domingo at Palau de les Arts (Valencia) she sang the title role in my personal favorite, Massenet's Thaïs - a character whose self-concept and sense of purpose gets re-wired by a sexually-conflicted desert monk. I saw coloratura soprano Beverly Sills and baritone Sherrill Milnes in Tito Capobianco's lavishly erotic production that opened the 1976 season at San Francisco Opera and was broadcast live. The experience has never dimmed. I asked Malin how the role informed her preparations for Jenůfa.
"Thaïs is a fantastic opera and a fantastic role. Learning the score and getting Thaïs into my voice did not take a long time for me and I was singing a lot. Although it is high at times, it's really not a coloratura role. It's what you must do with all that expressive singing in the middle of the voice. From a vocal standpoint, I needed to make sure I could sing her high phrases. Also, I know French and I've sung her big aria [Dis-moi que je suis belle]. Last year I sang Mathilde in Rossini's Guillaume Tell. That is a real dramatic coloratura role. I think the best part of my voice is not the coloratura, but the expressiveness of the middle. I've done Massenet's Manon, but I would not want to do it again. Perhaps Puccini's Manon Lescaut. I'm more interested in Verdi. I've done his Les vêpres siciliennes which is for dramatic coloratura and I will definitely be singing it again. It's fantastic. I love doing different things. That way, I don't get bored!"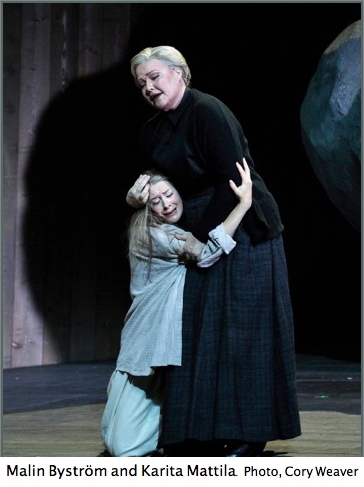 "With Jenůfa, I just looked at the score and saw it was not going to be as hard as some of my other roles. But learning the Czech - that's where you have to focus from the start! It takes so much time. I started with a language coach who had nothing to do with the music. We sat and translated word by word, getting the grammar - just to have a feel for it. That was the first two months. Then I went to Paris to meet this wonderful Czech coach who is a musician. By then I was learning the music. We went through the entire role, spending a day on each of the acts, getting the style. Then we talked about the characters. I've been doing this kind of work since October!"
Conducted by Jiří Bělohlávek (Conductor Laureate of the BBC Symphony Orchestra), the resplendent cast includes Karita Mattila as Kostelnička - Jenůfa's stepmother and murderer of her illegitimate child. In 2003, Karita appeared as Jenůfa at the Met in this same production by Frank Philipp Schlössmann, also directed by Olivier Tambosi. American tenor William Burden is brilliant as the more sympathetic Laca - who has always loved Jenůfa - and even though he has gouged her cheek with a carving knife, she marries him. Burden's previous roles at SFOpera have included two other loyal friend-types - Peter in The Gospel of Mary Magdalene and Dan Hill in the world premiere of the 2011 Gockley commission, Heart of a Soldier. Tenor Scott Quinn is ideally cast as the perpetually inebriated Steva, father of Jenůfa's drowned child. Scott returns next season as Albert Gregor in a revival of Janáček's The Makropulos Case.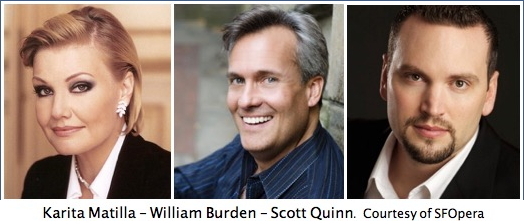 "It was very interesting when I started speaking with the Czech coach in Paris. We talked about who Jenůfa is in this society, in this village where everybody is constantly checking you out. What is she doing? Is she married? Is she pregnant? What is going to become of her? She will be an outcast. Jenůfa has a very close relationship with the Virgin Mary, almost like a friendship. Jenůfa is not a modern woman. That is very important to remember. Actors must take from themselves. At the same time, the situation is very different from modern life. I take in all the text, all the music, and listen to the director. Slowly, very slowly - you're there and you have something. Maybe there's still a piece missing. Then you rehearse and you find it. Three minutes after Jenůfa learns that it's Kostelnička who has killed her baby, she turns to the crowd and tells them to forgive her. How do I make such a quick change? Also, she is not in love with Laca. But in another few minutes Jenůfa opens up to the love Laca has been pouring over her in the previous two acts. Though it's a wonderful ending, it's not easy to make such changes. This production has been around the world and our director, Olivier Tambosi, is wonderful. Jenůfa really doesn't have a lot of alone time on stage. She has an aria in the first act, but Steva is with her. It's really the prayer in the second act where she is alone. For months, my husband has watched me go [she gasps], 'I just had a Jenůfa, again!' I couldn't contain it. What could be worse for her than the death of her baby? But onstage - you have to always be aware of the music and the text and your voice. And you do it. It's tough. But she does have a lot to sing. I love that!"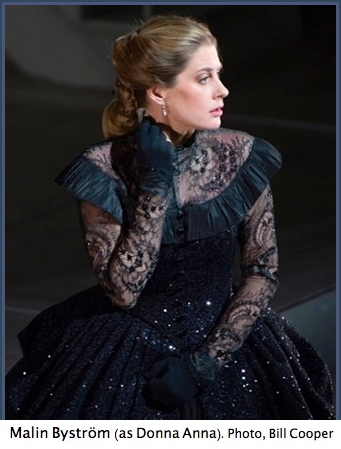 "I come from a musical family. My father is a flutist in a symphony orchestra and my mother is an organist in a church. Classical music was always there, I was playing the piano. When I was twelve, I got this CD, Great Sopranos of Our Time - and was fascinated immediately, especially with Maria Callas. I started reading about her and listening to everything I could find in my little town. Then I got the sheet music anthologies. I could see that my little girl voice could do some of those things. I started singing it, but didn't tell anybody. I just knew I could do it. I saw Jenůfa in Sweden in the late '90s when I was studying voice. It was a beautiful production by a Czech director who works there a lot. I remember being very touched by it."
No doubt there will be a curious young soprano out in the audience seeing Jenůfa for the first time - one who may become totally motivated because of Malin's performance. How would she advise that young singer today?
"I would tell her to just do it. It's hard work. It's rewarding. It's worth it. Emotionally, it's draining. Just go for it! There are a few Russian operas that I still want to do. The language is hard to learn and it does take time. I want to sing Tatiana, Lisa, and Káťa Kabanová. I have requests now for 2019/20 - I'll be doing Capriccio in different houses. But right now, I'm just so happy I've learned Jenůfa. The standard roles in German, French, and Italian now seem easier to learn. Something by Strauss does not seem so hard anymore. This work has made me strong."