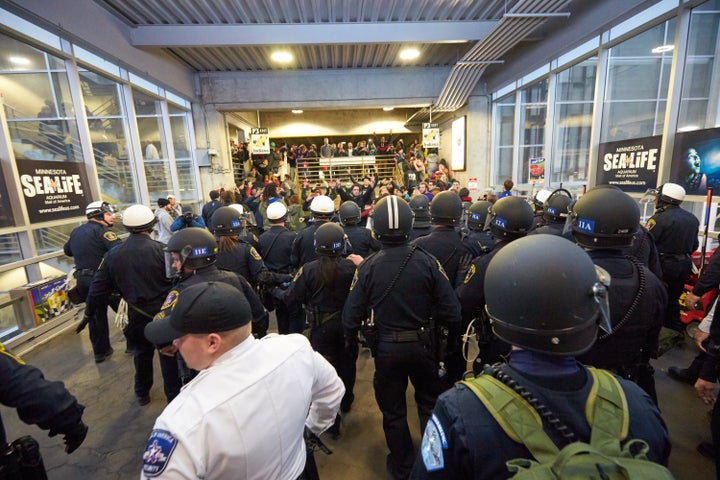 The Black Lives Matter movement plans a large protest at the Mall of America in Minnesota on Wednesday, but mall officials have asked a judge to cancel the event.
The protesters are demanding the release of videos showing last month's fatal police shooting of Jamar Clark, a 24-year-old African-American man, in Minneapolis.
Representatives of the shopping mall, the largest in the U.S., asked a judge to block the protest because the rally lacks permission from the mall. Their filing also seeks temporary restraining orders against eight leaders of the Minneapolis Black Lives Matter group.
"This is not about free speech. This is not about whether or not these folks have a good cause. Of course they have a good cause," mall lawyer Susan Gaertner said. "This [is] about where you demonstrate, and you demonstrate in places like this -- in a courthouse. Mall of America on Wednesday is a place to take your kids and shop."
Black Lives Matters leaders vowed to press forward with the protest regardless of how Hennepin County Judge Karen Janisch rules. The judge said on Monday that she'll quickly decide the matter.
"We are here for Black Lives, no matter what," Kandace Montgomery, an activist named in the mall's legal papers, told Reuters.
Mall representatives want Black Lives Matter organizers to stop encouraging protesters to descend on the mall, and to remove social media posts advertising Wednesday's event.
An attorney for the defendants said the mall is asking the judge prohibit free speech, according to TV station KARE.
"Although they destroyed our occupation, they will not destroy our spirits. If we don't get justice for Jamar Clark and Black Minnesotans, we will return to the Mall of America," says a Facebook message by Black Lives Matter Minneapolis.
Minneapolis police have said an officer shot Clark on Nov. 15 after he interfered with paramedics assisting someone who'd been assaulted. Some witnesses said Clark was handcuffed when he was shot.
The killing sparked demonstrations around the Twin Cities. Five demonstrators were wounded by shooters near a police station in the days that followed the killing. A white man and a Hispanic man were charged.
On Dec. 20, 2014, about 1,800 protesters crowded the mall. That demonstration coincided with protests across the country decrying that grand juries in Ferguson, Missouri, and Staten Island, New York, that failed to indict police officers in the killings of unarmed black men.
Popular in the Community