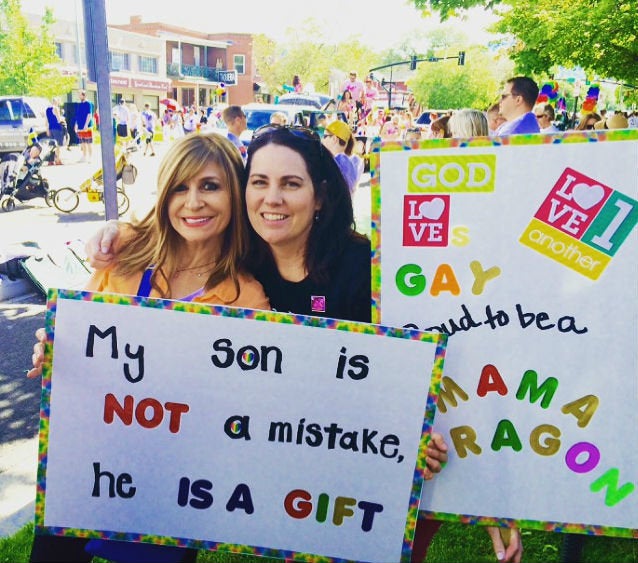 Chrysteil Hunter attends Seattle Pride every year as a practicing Mormon and a fiercely supportive mother of a transgender son. For many attendees, that she can be both is hard to fathom.
"I'm standing at our booth with three banners and a T-shirt that says I'm Mormon, and people still stop to ask: Wait, are you really Mormon? Wait, are you still active? Wait, are you really okay with this?"
Hunter is a member of Mama Dragons, a group of nearly 2,000 mothers of LGBTQ children founded in 2014 as a private Facebook group. Their members set up "hugging booths" across the country, where they offer a mother's warm embrace to anyone who needs it ― most often, LGBTQ youth who feel misunderstood and ostracized by their own mothers.  
Mama Dragons originated as a resource for Mormon mothers in Utah. It now has members from across the country who provide information and support to mothers from more conservative religious or political backgrounds whose children have recently come out.
The name is a more forceful play on "mama bear."
"We needed to breathe fire. We needed talons," member Lori Davis said.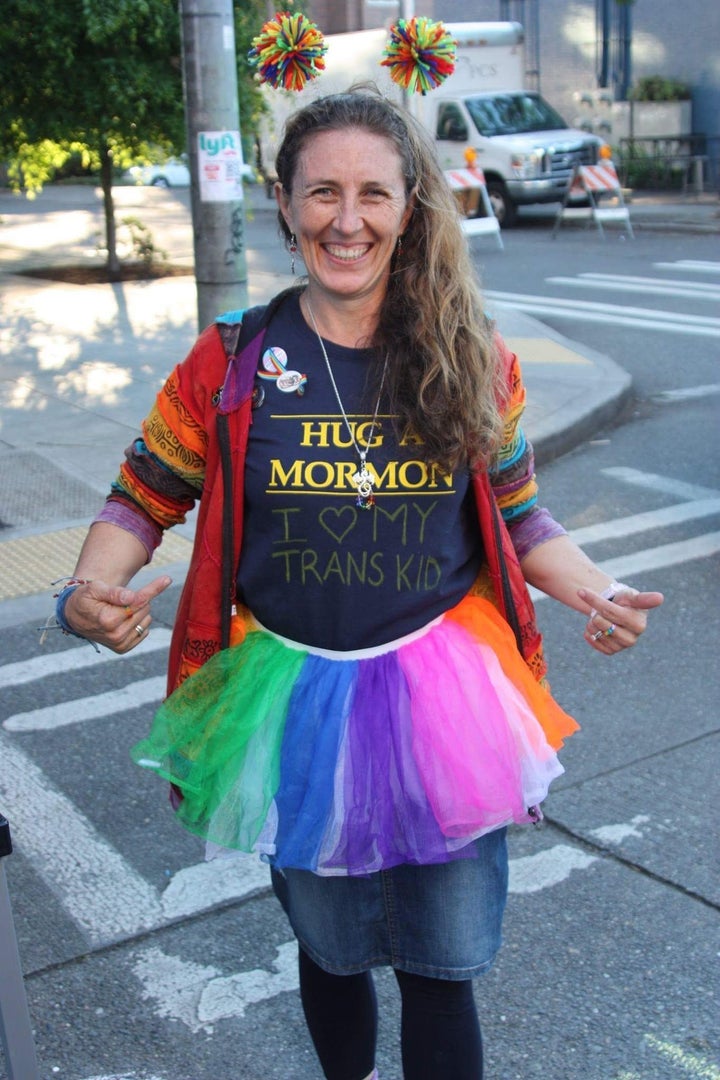 Many members come from communities that either outwardly reject their child's gender identity or provide few resources on how to support a newly out LGBTQ kid.
Davis, a Mormon mom from Utah, joined the group in 2014 after her son, who is gay, came out to her when he was just nine years old. He came out publicly at 13. 
"It felt so lonely," she told HuffPost. "I was really on board with supporting my son, I just didn't know how."
She joined Mama Dragons, whose small membership at the time rushed to support her: to tell her it was going to be okay and that her dreams for her child could still be realized, despite other messages she'd received throughout her own life that this was not what God wanted for him.
"To find a community that was feeling the same way that I was feeling, and to be able to see how they were supporting their children and what resources they were finding ― it was a pretty incredible experience," Davis said.
Mama Dragons and other support groups "saved my son's life and changed the trajectory of what our family did" after he came out.
It was the first time in my life that my son was looking to me for guidance that I couldn't provide.

Chrysteil Hunter
Hunter lives in Seattle, a liberal enclave, but she's been an active member of the Mormon church throughout her life. Her son came out as bisexual when he was 18. Not long after, he came out as genderfluid and now identifies as transgender.
"Although I felt in my heart that I supported people who love in any way, I literally didn't personally know a single transgender person," she said. When her son finally came out to her, she said she felt "out of her league."
"It was the first time in my life that my son was looking to me for guidance that I couldn't provide," she said. "I literally was concerned for his safety because I didn't know enough to be able to help guide him."
When Hunter found the Mama Dragons group in 2015, she was "taken into people's arms, held, and most importantly ― given information."
"These women are very good at being ready for brand new moms. Moms whose kids have just come out. Moms who haven't ever really been against anything, but never educated themselves," she said.
Moms enter Mama Dragons at "different stages of acceptance," Hunter said. Some are truly devastated by their children's sexuality or gender identity. The group implores members to "extend some latitude to others, keeping in mind that they may have nowhere else to release stress, confusion, pain, and even anger." 
"Each mother is in a different space, and we need to hold space for them to be there," Davis said. "It's not that they don't love their child, it's just that they're grieving the life they thought their child would have."
Many of the group's members have evolved passed that stage, but still "remember all those feelings," Davis said. Without a safe space to process those feelings, it's possible many mothers might never get over the grief and rejection they feel, Davis and Hunter said.  
"We don't want to shut down people who have those feelings. Where are they supposed to express that if not here?" Davis said. "To be honest, there are a lot of people in the group who would tell you they had those feelings in the beginning."
Though most members come from backgrounds hostile to LGBTQ identities in some way, their specific religious and political beliefs vary. Those differences are put aside to help a mom in the "crisis stage," Hunter said.
"These women put any separating devices aside to step in and support a new mom, who literally will come in and say, 'Please don't hate me and think that I'm awful because I love my child ― but is it wrong that I think that God didn't do this?'" she said.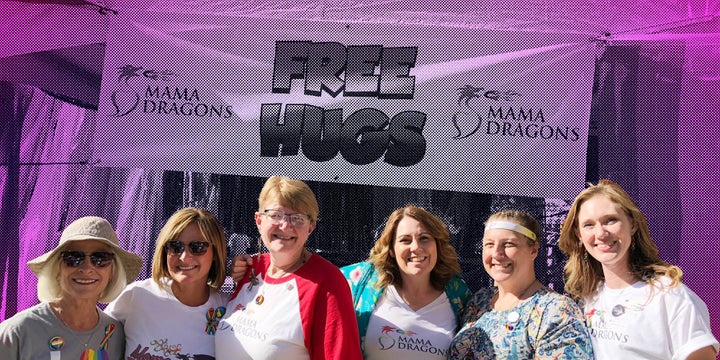 For Davis, the sheer number of Mama Dragons who've maintained positive relationships with their LGBTQ kids signals to new members that they will not be shunned, and their worlds will not fall apart, just because their child is gay.
On her own Facebook page, Davis, a practicing Mormon, posts regularly about her son, including prom pictures with his boyfriend. 
"When you see other moms supporting those kids, you become brave enough to do the same thing yourself," Davis said. "You become brave enough to have those hard conversations, to look at your own beliefs and evaluate them."
Mama Dragons partners with other Mormon LGBTQ organizations to set up "Hugging Booths" at Pride Parades across the country. But the booth isn't just for hugging.
"It's a sacred space for people to discuss difficult topics," Davis said.
LGBTQ youth, mostly from Mormon backgrounds, will spend hours talking with Mama Dragons members ― asking for help, advice, or simply an empathetic ear. Hunter and Davis dedicate themselves to listening to young people simply "tell their stories of pain and what they've gone through in a safe space."
"There we are, at Pride with boas and rainbows, and I'm sure the last thing this person thought they were going to do that day was sit down with a Mormon mom and tell their story of pain and what they've gone through," Hunter said.
Many of those individuals ask Davis and Hunter to connect with their own mothers. Last year at Pride, Davis met a young transgender woman whose mother would not call her by correct pronouns.  
"She brought her mom to Pride and asked me, 'Can you please explain what it means to me for my mother to call me by the right pronouns?' And it was such an amazing conversation," she said.
When you see other moms supporting those kids, you become brave enough to do the same thing yourself.

Lori Davis
Hunter and Davis emphasized that Mama Dragons exists solely for mothers and does not refer to itself as an LGBTQ advocacy group. This isn't to distance themselves from the cause, they say, but to communicate the power of having a safe space for mothers, and only mothers, to help one another find a path forward.
They feel strongly that a mother's support for their LGBTQ child can profoundly affect their livelihood and, in some cases, whether they live or die.
"It's about life and death in many situations," Hunter said. "Every mom we can reach and help them accept their kid, to know how to support them just a little better, is one less funeral we have to go to and one more family who will deal with this for the rest of their life in a completely different way."
"Even though kids are not allowed to be part of our groups, their very lives are at stake," she added.
#TheFutureIsQueer is HuffPost's monthlong celebration of queerness, not just as an identity but as action in the world. Find all of our Pride Month coverage here.
CORRECTION: A previous version of this article misstated Lori Davis's son's gender identity. 
Calling all HuffPost superfans!
Sign up for membership to become a founding member and help shape HuffPost's next chapter
BEFORE YOU GO