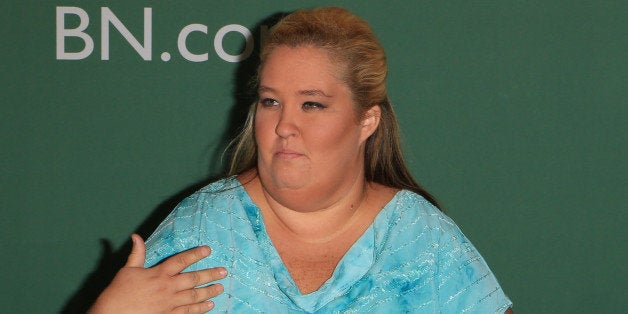 UPDATE: June Shannon's eldest daughter, Anna Shannon Cardwell, has confirmed to RadarOnline that she was the 8-year-old whom Mark McDaniel molested.
"I want to make a post trying to clear up the rumors remember you can't believe everything you read!" she wrote on her 9-year-old daughter Alana Thompson's Facebook page on Thursday. "Ppl sell stories to the tabloid everyday that r false! It isnt true i promise my kids r #1 priority over anything else and I would never put them in danger period over this or anything else they r my life this is my past I left him 10 yrs ago for it and I wouldn't go back."
"My mom left Mark 10 years ago. They haven't seen nor talked [to each other] in 10 years," she told RadarOnline, adding that the alleged photo of the two cuddling in bed is a fake: "It's photoshopped."
Even as Shannon denies the allegations, the fate of the family's reality show remains unclear as TLC told multiple news publications, including The Huffington Post, on Thursday, "TLC is not currently in production on 'Here Comes Honey Boo Boo.' We are very concerned about this new information and are reassessing the future of the series."

UPDATE: TLC confirmed to The Huffington Post that they have officially canceled "Here Comes Honey Boo Boo."
TLC has canceled the series "Here Comes Honey Boo Boo" and ended all activities around the series, effective immediately. Supporting the health and welfare of these remarkable children is our only priority. TLC is faithfully committed to the children's ongoing comfort and well being.
Support HuffPost
The Stakes Have Never Been Higher
Popular in the Community