As RuPaul's Drag Race zooms toward its Top 3, Bob the Drag Queen is making a move toward pole position. While ample acting and comedy challenges have made Bob a favorite to take home the Season 8 crown, the campy New Yorker says her only real competition is herself.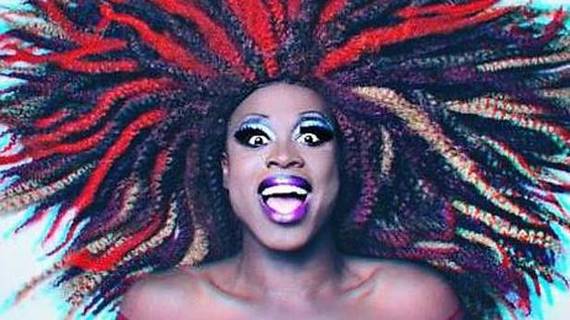 "I feel like when you focus on other people, you just end up fucking yourself over," Bob shared during a telephone interview, "And you don't do as well."
This year's competition to crown "America's Next Drag Superstar" has been filled with intense rivalries. Some queens have been almost as focused on sending specific contestants home as taking the $100,000 grand prize. It generally hasn't ended well for any involved! Meanwhile, individual grudges have not been a distraction for Bob, who says the others "weren't really competition."
"It's not like, 'I'm better than them,'" clarified Bob, whom even I am moderately confused as to which gender pronoun to assign, since they appear to waver on the series, "I just don't even focus on them at all."
"I wasn't even looking for who to do better than," said the ever-confident performer, who hits San Francisco's Castro Theatre May 28 for Drag Queens of Comedy. "I have to do my own personal best. If I do that, my creativity will come through."
After opening a candy shop in his home as kid, Bob said a competitor opened around the corner. Eaten by jealousy, he asked his mother what he could do to make sure his store was better.
Listen: 'Party Foul Radio' Interviews Bob the Drag Queen; 'All-Stars' Winner Chad Michaels Discusses Derrick Barry; Miss Gay California USofA Beyonce Glamazon & Media Maven Akilah Monifa Also Appear.

"My mom said, 'What you need to do is worry about yourself and not focus on anyone else, and you'll end up shining,'" Bob told me. "You should be doing your best regardless of what somebody else is going to do."
It seems ironic, of course, that the blossoming superstar cites his mom's teachings after the show's most recent episode. On the drama-laced April 25 episode, the final five contestants brought autobiographical looks -- including a tribute to their mothers -- to the runway. Though showing emotional vulnerability discussing his mother's health challenges, Bob's look underwhelmed judges. (Side note: I thought she looked great, but it is the final five, so someone had to lip sync!)
While Kim Chi won the challenge, season-long front-runner Bob landed in the bottom two. In a great "Lip Sync for Your Life" to Sylvester's "Mighty Real," he sent acclaimed Britney Spears impersonator Derrick Barry home to continue headlining Frank Marino's Vegas.
Jokes that he will soon be "President of the World" aside, Bob is gunning for more acting and comedy opportunities post-Drag Race. A new feature film in which he appears, Cherry Pop, opens soon in Los Angeles and stand-up gigs dot his jam-packed performance schedule. (Portland: Catch him June 19 at your Pride festivities!)
Coming soon, Bob joins Drag Race funny ladies Trixie Mattel, Alyssa Edwards and Season 6 winner Bianca Del Rio -- plus legends like Lady Bunny, Coco Peru and Varla Jean Merman -- in San Francisco. Produced by Sasha Soprano, Drag Queens of Comedy returns to the historic 1,400-seat Castro Theatre May 28.
""I really value performing. In my opinion, it's the most important part of my drag," he shared. "I got my start in drag doing stand-up, so for me, this is really exciting."
In the interim, Chi Chi DeVayne, Naomi Smalls, Kim Chi and Bob continue to battle to be Season 8's top dog each Monday on LOGO TV. Each has their strengths, so at this point it's anyone's Race.
Also on this week's episode of Party Foul Radio, legendary Chad Michaels shared her praise for all four finalists with cohost Pearl Teese and me. Though the RuPaul's All-Stars Drag Race winner says Chi Chi is "very resourceful," Naomi "has everything needed to win," and Kim is "amazingly beautiful," she appears to give her stamp of approval to Bob.
"Just like when Bianca was on the show, Bob is the clear favorite," Michaels said. "It seems like a no-brainer."
Get tickets to The Drag Queens of Comedy here.
Upcoming Guests on 'Party Foul Radio with Pollo & Pearl' include Trixie Mattel, Varla Jean Merman, Ts Madison, Coco Peru, Boomer Banks & More. Follow Podomatic's No. 1 Ranked LGBT Podcast on Twitter.
Calling all HuffPost superfans!
Sign up for membership to become a founding member and help shape HuffPost's next chapter