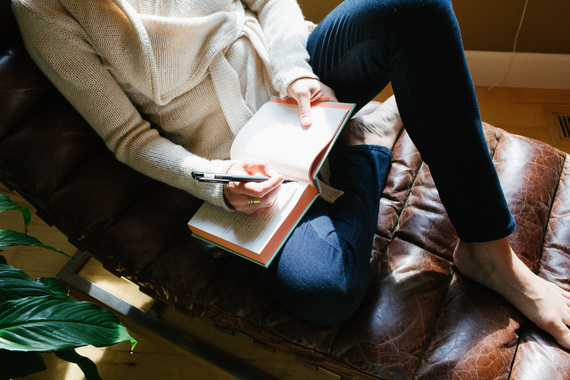 Photo credit hazel & pine
I've been noticing a pattern when I talk with moms about exploring their interests beyond motherhood. Most often, they share that it would be nice to have something they could call their own. Something that allows them to find fulfillment outside of motherhood. Something that might bring in a little income and help them create the lifestyle they desire for their family. Something that lets them see outside the day-to-day and make a difference in their communities -- and beyond.
Then about one beat later, I know there's a "but" coming. It usually sounds something like this:
I would really like to turn my passion into something real BUT...
I'm not smart enough.
I'm not strong enough.
I'm not important enough.
I'm not creative enough.
I'm not attractive enough.
I'm not young enough.
I'm not focused enough.
I'm not driven enough.
I'm not passionate enough.
I'm not brave enough.
I'm not experienced enough.
I'm not dedicated enough.
I'm not good enough.
All this talk about not being enough is a real problem. Because when you focus on everything you aren't, you can't see all that you have to offer. You can't see your value, your strengths and your talents. And it's hard to explore ideas and create opportunities for yourself from that place. (It's far easier to just hide.)
But really, who is anyone else to say you aren't brave enough or bold enough or good enough to have a purpose beyond motherhood? Who is anyone to say you aren't strong enough to do your work in the world? And, most importantly, do you really want to steal your own dreams by buying into beliefs that you're not enough to go after your other calling?
I didn't think so -- and that's why I'm inviting you to wipe the slate clean today.
Here's how we're going to start: sometime today, I want you to stop thinking about everything you're not and instead sit down and write down 25 things you love about yourself. (Yes, 25 -- and I know that feels like a stretch.) These things can be personality traits, skills, physical traits, characteristics, accomplishments -- you name it. If you're proud of it or it's something you love about yourself, it goes on the list.
I want you to do this today because right now you're so focused on the ways you don't measure up. You're criticizing your so-called flaws instead of celebrating your strengths. You're buying into thoughts that fuel your self-doubt and lower your self-worth. And if you want to pursue your purpose beyond motherhood, you have to shift your thinking to help you celebrate you and see what everyone else sees in you.
Because you have so much worth, as a mom and as a woman. You are enough. And there are people waiting for you to realize that. There are people waiting for you to step up and shine. People waiting for you to tap into your talents and share them.
If you're ready to do that, go make your list. And if you try to make your list and feel like you don't know where to start, leave a comment below so we can connect and help you see that you are good enough because you are you, and that in itself is enough.
Ashley Gartland is a life coach and mentor for moms who want to be present moms and find fulfillment outside of motherhood so they can use their innate talents to make a difference in the world.