As a mother who has nursed three babies - all while nursing a career - I am very excited to see so much attention lately on women's issues in the workplace. I can personally attest to having nursed (or pumped) in bathrooms, cars, planes, trains, closets, and automobiles; all with varying degrees of cleanliness and (dis)comfort. (This includes three trips to NeoCon with a baby or pump in tow.) Well, rest assured, mamas... if you are still nursing, you will now have a comfortable, clean, private, secluded functional space to go this year!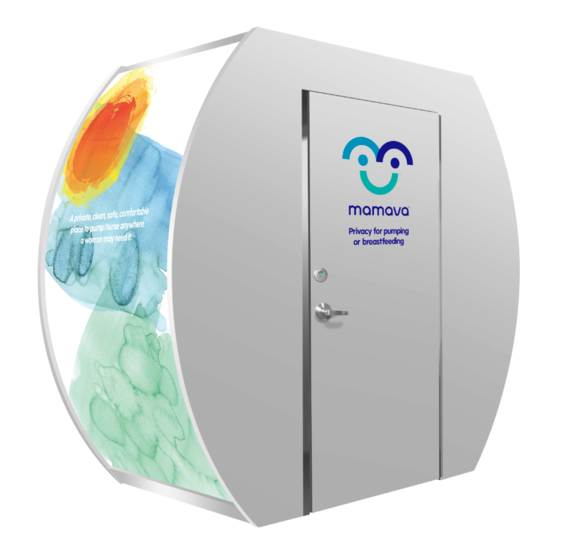 Mamava, creator of design solutions for nursing mamas on the go, is a first time exhibitor at NeoCon 2016. A woman owned company based in Burlington, Vermont, was founded by mom duo, Sascha Mayer and Christine Dodson. Mayer and Dodson applied their design backgrounds to craft a solution to a problem they personally experienced - finding a clean, private, and dignified space to pump. The Mamava suite is a self-contained, mobile pod with comfortable benches, a fold-down table, an electrical outlet for plugging in a breast pump, and a door that can be locked for privacy. The 4-foot by 8-foot pod is meant for individual use, but can fit more than one person, as well as mothers with babies and other children in tow. The Mamava suite embodies the spirit of Mamava's "happy breast" logo - beautifully designed to support and celebrate breastfeeding. "We're thrilled to showcase our Mamava lactation suite at NeoCon, and more importantly provide this amenity for nursing moms attending the show. It's a living and breathing example of how designing with empathy can solve real world issues. We've fully considered the emotional, physical, and biological needs of a nursing mom," Sascha Mayer, CEO and Co-Founder.
Mamava suites have been placed in airports, zoos, hospitals, schools - as well as many private businesses across the country. The suites help employers comply with the Affordable Care Act, which mandates employers provide a private location other than a bathroom for moms to express breast-milk. Mamava suites are a necessity to support nursing mothers - physically and emotionally - so that they may achieve their breastfeeding goals. Mamava suites may be branded in custom graphics, and purchased privately or through a media sponsorship program.
Mamava, was incubated at Solidarity of Unbridled Labour (formerly JDK Design), a world-renowned design studio. Mamava is mama-owned, made in America, and a proud member of the B Corp community. The free Mamava app for iPhone and Android allows moms on the go to search for pumping and breastfeeding friendly locations.
The Mamava Suite at NeoCon will be located at the east end of the 7th floor, 4000 aisle, and the company booth is #7-1077. FMI, please visit www.mamava.com.
Calling all HuffPost superfans!
Sign up for membership to become a founding member and help shape HuffPost's next chapter