You're supposed to sleep when the baby sleeps, but Mami Koide, a mom and cartoonist from Tokyo, Japan clearly has other ideas. When her daughter Nuno goes down, she gets creative, using everyday items -- clothes, vegetables, hangers -- to stage photographs of what she thinks her infant is dreaming about.
The series began as a way to update Nuno's dad about his baby girl, and grew into a book. It all started one evening while dad, who is a bartender, was at work. Koide set up the scene just to send something fun to him. "At the beginning, I wasn't sure whether the illustration crafted with clothes would really look like a picture, but after I sent it to my husband, I was very pleased to hear that he really got it and that it was interesting. It made him chuckle," Koide told NTDTV. She explains that his reaction turned the project into a ritual.
Story continues below photo.
"When I look at these pictures during my work at night, I'm assured that she's fine, and I think that I should work hard to make this girl happy," dad Katsunori Sunami
After Koide had created 200 photos of her daughter in fairy-tale like scenarios, she published the book which became a bestseller on Amazon Japan, Reuters reports. And though her work has been successful, Koide says that she is probably finished shooting these photos. She's concerned about what the most important viewer -- Nuno -- will think of the book when she's old enough to understand it. "I'm still not confident whether she'll be happy and satisfied with what I'm doing without her permission while she is sleeping," she told Reuters.
Koide's photos are are strikingly similar to
A selection of Koide's photos are shown in the gallery below.
Related
Before You Go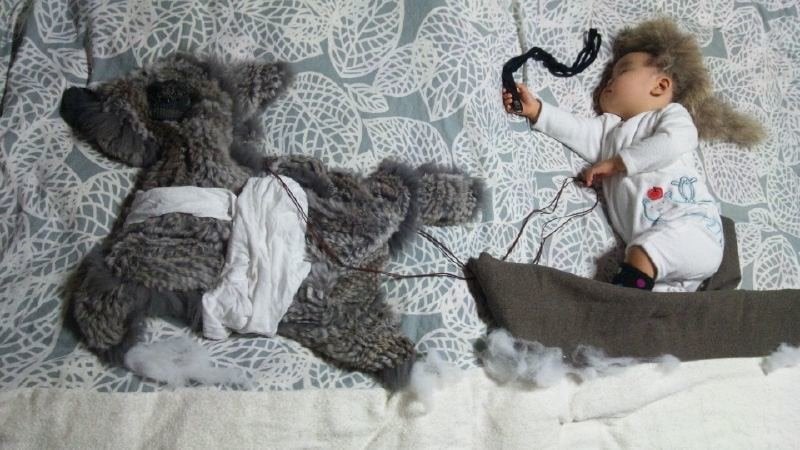 Mami Koide's Sleeping Baby Project