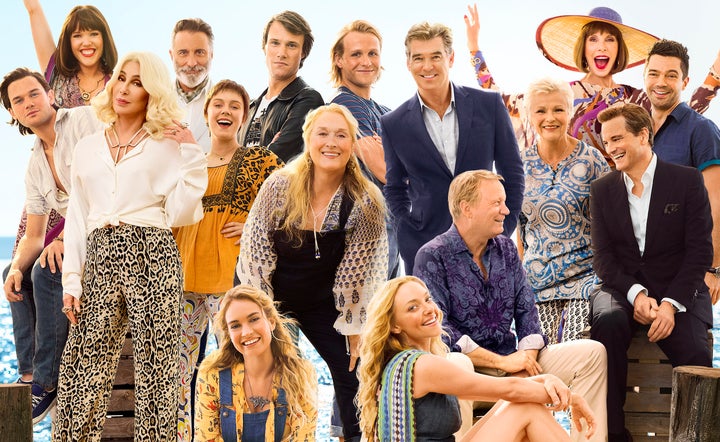 I saw the original "Mamma Mia" ― well, part of it ― at a movie theater with my mom in 2008.
We clearly didn't possess the fervent passion of typical ABBA fans, because as we were giggling through the movie's schmaltzy mother-daughter-father-father-father plot points (Pierce Brosnan's singing voice alone was enough to make me chortle), our fellow theatergoers were shooting us death stares. About 30 minutes in, we actually got up and left, only to finish the movie at home months later. 
In the comfort of our own living room, we could snort (and sing and dance) without judgment, and it's there that my mom and I learned the true value of "Mamma Mia": its inoffensively cheesy, ridiculous, over-the-top fun. 
I'm here to report that the sequel, aptly titled "Mamma Mia: Here We Go Again," is equally as cheesy and ridiculous. Except this time, we get 15 minutes of Cher.
"Les enfants, je suis arrivée," a 72-year-old Cher mutters as she enters the "Mamma Mia 2" narrative toward the end of the movie, arriving 10 years after the original grossed over $600 million worldwide. (She's playing the mother of 69-year-old Meryl Streep's character; that's a whole other issue.)
Amid cheers from the audience, Cher, fabulous as ever, cascades down steps as she sings "Fernando" and flirts with the overwhelmingly charming Andy Garcia ― fireworks exploding in the background. The moment alone perfectly encapsulates everything "Mamma Mia 2" is about. Scenery. Music. Cher as a grandma. 
The rest of the story focuses, of course, on Sophie (Amanda Seyfried), who ― pregnant ― has recently refurbished her mother Donna's (Streep) hotel on the fictional island of Kalokairi in Greece. It's a bittersweet affair, however, as we learn (spoiler alert!) within minutes of the film's start that Donna is no longer with us.
She has died of unknown causes.
But, fear not. Donna's spirit is still around in the form of "Downton Abbey" and "Cinderella" actress Lily James, who plays a young Streep in flashbacks. She falls for, and sleeps with, three men in the span of a few weeks while cavorting around Europe. Those men, of course, are Bill (originally played by Stellan Skarsgård), Harry (Colin Firth) and Sam (Brosnan), portrayed by Josh Dylan, Hugh Skinner and Jeremy Irvine in the flashback scenes, respectively. It's three historic romances for the price of one.
That's the good news. The bad news is that, in present day, fans are made to grieve with a stressed-out soon-to-be mom Sophie, who's fighting with her husband, Sky (Dominic Cooper), and toiling over the grand opening preparations for Hotel Bella Donna alongside her mother's widower, Sam. 
The ABBA songs featured in "Here We Go Again" aren't as well-known as the songs from the original, but viewers do get to see a fresh-faced Donna and the Dynamos (Jessica Keenan Wynn as a young Christine Baranski and Alexa Davies as Julie Walters) sing and dance to "When I Kissed the Teacher." We also witness James belt out "Andante, Andante," "The Name of the Game" and "Waterloo."
Plus there are new, equally corny versions of "Super Trouper," "Dancing Queen" and "Mamma Mia" to entrance you die-hards. 
I didn't walk out of the theater this time. But I did laugh to myself throughout the nearly two-hour movie ― at the array of too-literal moments, painful Brosnan close-ups and hilarious one-liners from Baranski, Waters and Firth. I even shed a tear or two (disclosure: I'm pregnant, thus pulsing with raging hormones) during an emotional scene in which Donna and Sophie sing "My Love, My Life" in church. 
All in all, I couldn't escape the relentless happiness of Cher and Meryl's extended brood. It's delightful and engaging; campy and oversaturated. Director and writer Ol Parker ("The Best Exotic Marigold Hotel") did a decent job of capturing the bizarre energy of Phyllida Lloyd's forerunner, even if certain scenes don't quite stack up to the feat that was Streep belting out "The Winner Takes It All" on a cliff as an orange scarf flies around her figure. Again, it's Cher who delivers the goods this time around, oozing confidence, glamour and humor all while in a glittery shirt-pantsuit combo. (RIP, Streep's overalls.)
But what's loveliest about "Here We Go Again" is its box-office timing.
It's summer and we're drained from the disturbing headlines pouring in day after day. So let us sit down with some popcorn and candy, watch Pierce try to dance, and sing ABBA lyrics, shall we?
"Mamma Mia: Here We Go Again" is out Friday. 
REAL LIFE. REAL NEWS. REAL VOICES.
Help us tell more of the stories that matter from voices that too often remain unheard.
BEFORE YOU GO
PHOTO GALLERY
Celebrity Photos