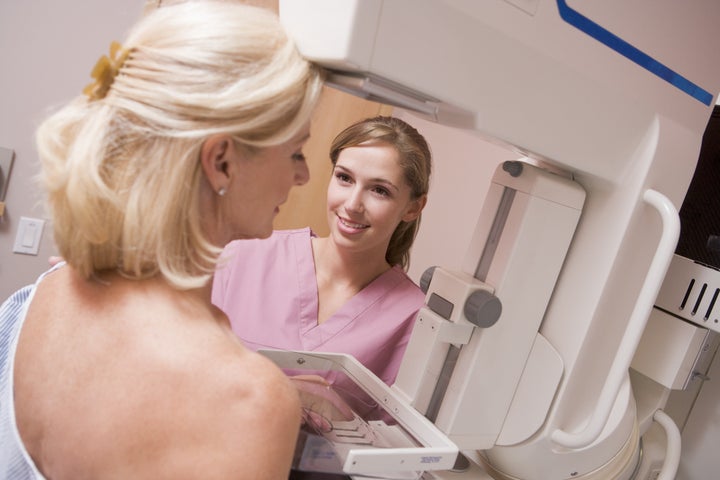 When it comes to detecting breast cancer, no one disagrees that mammograms -- x-ray imagining of breasts -- are an important tool for finding changes in breast tissue. But what has been up for debate in recent years is how frequently women should go to their doctors for mammogram screenings (many women have long followed the American Cancer Society's suggestion of getting annual mammograms after 40).
Older women "get no added benefit from annual screening, and face almost twice the false positives and biopsy recommendations, which may cause anxiety and inconvenience," said senior author and UCSF professor Karla Kerlikowske in a statement.
Published in the Journal of the National Cancer Institute, the study looked at more than 140,000 women ages 66 through 89. Researchers found that 48 percent of women aged 66-74 who were screened for breast cancer annually received false-positive results. But only 29 percent of women in the same age group who got mammograms every two years saw false-positive results. It was also noted that health issues such as diabetes or heart disease had no effect on the finding.
"Despite substantial increases in the number of cases of early-stage breast cancer detected, screening mammography has only marginally reduced the rate at which women present with advanced cancer. Although it is not certain which women have been affected, the imbalance suggests that there is substantial overdiagnosis, accounting for nearly a third of all newly diagnosed breast cancers, and that screening is having, at best, only a small effect on the rate of death from breast cancer."
Calling all HuffPost superfans!
Sign up for membership to become a founding member and help shape HuffPost's next chapter
BEFORE YOU GO
PHOTO GALLERY
12 Tests That Can Do More Harm Than Good