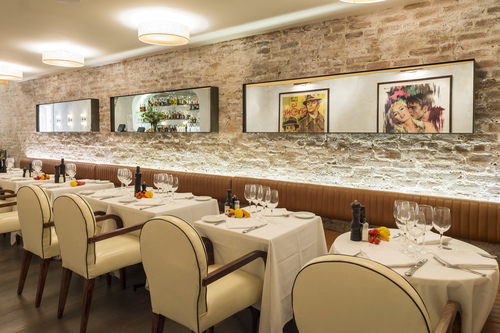 Entering Mamo's second floor dining room and knowing that its antecedent is in Antibes on the French Riviera, I saw immediately that the owners had gotten everything just right for a summer's evening in Soho. Twilight still stole through the windows and cast a lovely glow on the white brick walls hung with brightly colored Italian movie posters. The leather chairs are among the most comfortable in New York, and the waitstaff had both speed and youthful charm on their side. And when the food began to arrive, I felt that, yes, I could easily be on the French Riviera or Liguria tonight dining like this.
The original Mamo (appended with the name Michelangelo) has for more than twenty years been set in an ancient wine cave of Domaine Ott, but with tables right up to the shoreline outside, and it's always been one of the chic restaurants on the Riviera, with a gallery of celebrity photos posted on its website. The NYC Mamo looks nothing like the French place, but the menus are very similar, as are the wine lists of French and Italian labels, though, surprisingly, NYC's list is more expensive than Antibes's. There are precious few wines under $50 in NYC; in Antibes a bottle of Ornellaia runs $335, in NYC $480, and Col d'Orcia Brunello $97 versus $115. (In a wine store these would cost, respectively, about $170 and $40.)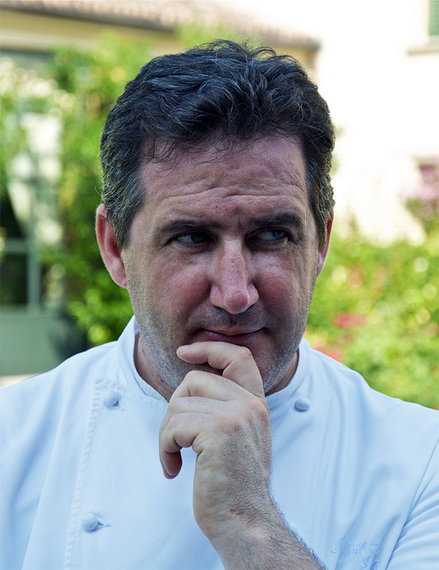 Milan-born Chef Massimo Sola (above) has managed to do so many dishes so right despite a crushing number of guests who may or may not know much about authentic Italian food, like the correct texture, called all'onda, risotto should have. Since risotto needs 20 minutes to prepare from scratch, Sola par-cooks the rice and cuts the preparation time in half. The tender, saffron-scented risotto with shreds of osso buco ($20) that I ate was easily one of the very best I've had outside of Italy.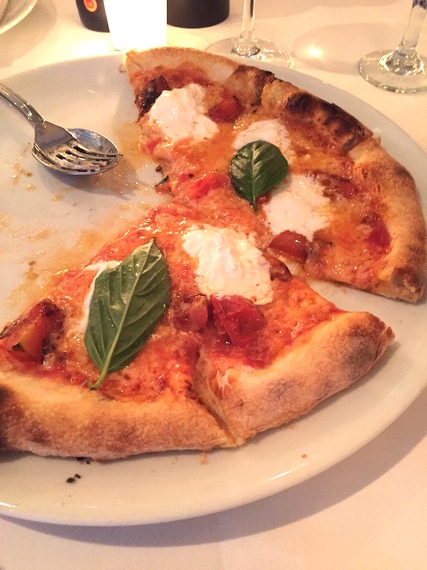 Right off the bat, the bread and grissini were very good, as was the olive oil on the table. Mamo offers four fairly traditional pizzas, and the "Milano," with Cantal cheese, burrata, tomato, cherry tomatoes and basil (left), was a winning combination; at $22 it's not cheap but it makes a good appetizer for four people. The menu also has a pizza, as well as a number of other items, with truffles, but at this time of the year--before the black and white varieties arrive in the fall--they'd be only inferior summer truffles not worth ordering.
The full portions of pasta ($19-$27) are very hearty and may be split, not least a hefty cut of lasagne alla Bolognese, which, though it had more tomato than a classic Bolognese should, was rich, creamy and immensely satisfying. Spaghettoni all'amatriciana was everything that sumptuous Roman dish should be, with crispy bacon, sweet tomato and assertive pecorino.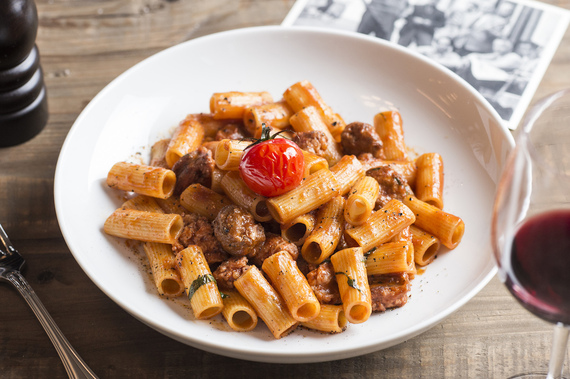 As is often the case in Italian restaurants, main courses are kept at a simpler level than what precedes them, so the baby lamb chops ($42) called "scottadito" ("burn your finger") were just marinated then grilled. You don't often see rabbit on NYC menus, so Mamo's stuffed rabbit rolls with spinach and foie gras ($44) were very welcome at our table and as good as similar dishes I've had at French restaurants around town. Also unexpected was a rendering of Dover sole crusted with Parmigiano cheese and a caponata of olives and peppers ($40). Usually I'd protest anything but brown butter on delicate Dover sole, but I must say that the addition of the golden crust of cheese worked remarkably well.
There are some standard desserts ($9-$12)--chocolate mousse, cheesecake (with lavender), and tiramisù--but try the apple sponge cake with chocolate crème anglaise for something different.
Sorry to say, the enjoyment of my evening at Mamo was curdled by how things developed after eight o'clock. Having arrived at seven, we felt quite blissful until the room filled up an hour later and the noise level started to rise, heightened by the booming of unidentifiable music that forced everyone to speak--no, shout--louder and louder just to be heard above the din. Simply turning off the music--which no one goes to Mamo to hear--would make for a far more congenial ambiance, as would calling an acoustical engineer to buffer the noise.
Otherwise, Mamo is serving wonderfully authentic Italian food and doing so with a conviviality not very different than you might find back in Antibes.
Mamo is open for lunch Mon.-Fri., dinner nightly and brunch Sat. & Sun.

MAMO
323 West Broadway
646-964-4641
mamonyc.com