An Arizona man is facing attempted murder charges following what police are calling a "targeted" attack against three officers that was caught on video.
The officers were standing outside a Phoenix convenience store around 2 a.m. Tuesday when surveillance video captured a vehicle charging at them.
The car, police said, was driven by 44-year-old Marc LaQuon Payne and hit two of the officers. It grazed a third who was later injured while restraining the driver, according to an emailed statement from police.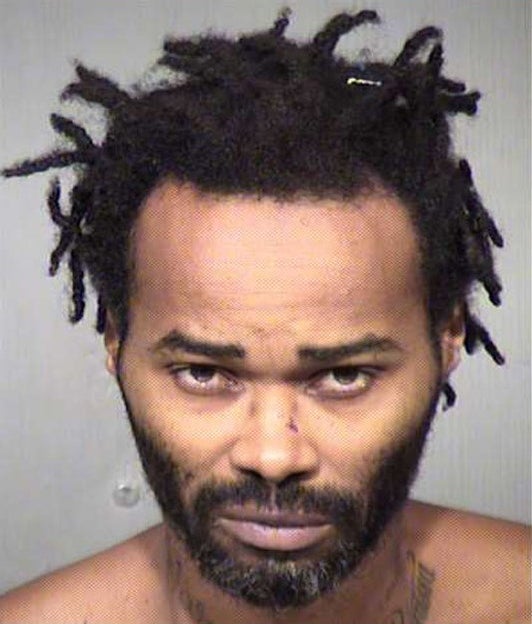 "The officer's first name is Jeremy. He gets up and engaged with the suspect in a fight," Yahner told reporters at a press conference, according to KSAZ-TV. "Jeremy, and I'm not going to give you his last name, first day out of the squad, gets propelled into that glass, has the guts to get up, get back into the fight and take this guy into custody. Unbelievable. He is a hero."
The rookie officer, 33, was hospitalized with a non-life threatening head injury. A 41-year-old sergeant, with 18 years of experience, suffered a broken leg and a 36-year-old officer, with eight years of experience, sustained minor injuries during Payne's arrest, according to a police statement.
"I am outraged by this incident," Yahner said, according to CBS 5 News. "Our Phoenix police officers were targeted. We have all heard about officers being targeted and ambushed across this nation. But this happened here. This happened in Phoenix. This happened to your Phoenix police officers."
Payne is believed to have been impaired at the time of the incident. Though police believe the crash was intentional, based on a preliminary investigation, a suspected motive has not been released.
In a Facebook message, Yahner said they were lucky that the officers "were not killed or more seriously injured."
"We are living in uncertain times, and this is yet another reminder of how important it is to stay vigilant, and to watch out for one another. The actions taken by our officers in the immediate moments following this incident were nothing short of heroic. I am so proud of them and all the men and women of the Phoenix Police Department," his statement read.
In 1997, he was taken into custody following a traffic stop ― during which he assaulted the arresting officers ― because there was an outstanding warrant for his arrest. He later pleaded guilty to the assault. Police later said that he appeared to be remorseful for his actions and the charge was eventually downgraded to a misdemeanor.
In addition to facing three attempted murder charges following Tuesday's incident, jail records show Payne faces charges of aggravated assault with a deadly weapon, criminal damage and resisting arrest with physical force. He is being held without bond.
REAL LIFE. REAL NEWS. REAL VOICES.
Help us tell more of the stories that matter from voices that too often remain unheard.
BEFORE YOU GO