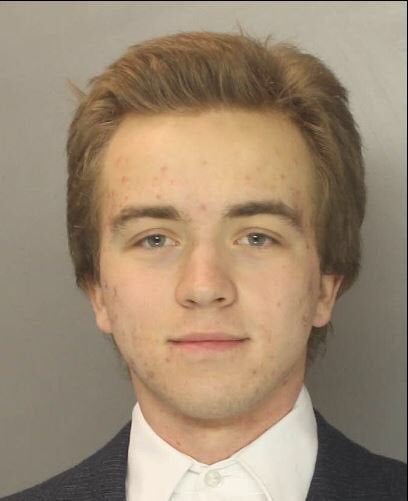 Artur Samarin, 23, was charged with statutory sexual assault and corruption of minors Friday. The Harrisburg Bureau of Police says he carried out a relationship with a 15-year-old girl in 2014. He was seven years her senior at the time.
"What can I say. I did abuse the system, yes. Yes, I did. I did use this identity and it's the law," he told a WHTM reporter in a phone interview from Dauphin County Prison.
Samarin was unmasked Tuesday after authorities said he used the fake name "Asher Potts" to enroll at Harris High School as a freshman in 2012.
While taking classes, he was heralded as a star student who achieved a 4.16 grade-point average and was nominated as homecoming king last fall, PennLive reported.
Police say he also was enrolled in the school's ROTC program, was a member of the National Honors Society and took classes at Harrisburg University. In 2014, he was publicly recognized by state Rep. Patty Kim (D-Dauphin County), who tweeted a photo of them together using the hashtags "going places" and "proud."
Prior to his 2012 enrollment, police say Samarin had not only graduated high school in the Ukraine but also completed two years of college.
Asked by WHTM what he'd like to say to the people who believed and supported him, Samarin expressed hope for himself and said he was an "American."
"I want to tell them that I have a dream. I still have a dream. I love the United States. It's a land of opportunity for all of us immigrants and this land provided me with opportunities, with limitless friends," he said. He also told the reporter he preferred to be addressed by his moniker Asher Potts.
"I am American. I am considering myself American now," he continued. "American, it's not your place of birth, but it's something that goes on inside of your soul. It's the way you feel. It's liberties and justice, that you earn. And I love it."
Police say Samarin legally arrived in the U.S. in 2012 on a three-month work and study visa, and was employed by a local company. When the visa expired he applied for and was granted a tourist visa. That expired in March 2013. By then he was already two semesters in at the high school after enrolling with falsified documents.
"One of the documents was a social security card that was ultimately approved after multiple attempts at several Social Security Administration offices," police said in a release.
Samarin was initially arrested on charges of identity theft, theft by unlawful taking and tampering with public records.
He was hit with the sexual assault and corruption of minors charges while behind bars. Police said additional charges are expected.
Popular in the Community