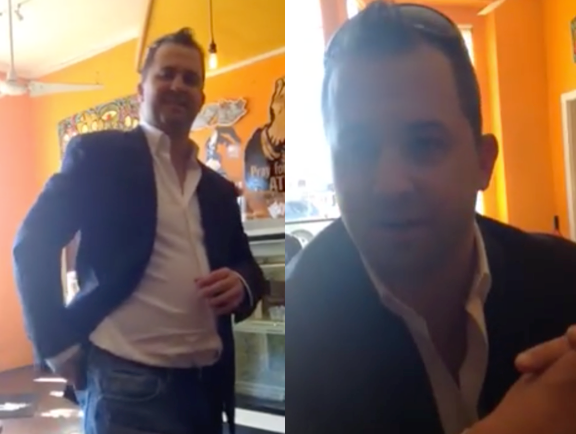 A Muslim American woman recorded a man calling her a "bitch" and asking her if she has a green card after she confronted him about allegedly taking her photo, sparking allegations of racism.
Asma Elhuni, who's a graduate student at Georgia State University and wears a hijab, was sitting in an Atlanta coffee shop Saturday when she filmed the disturbing exchange. As of Monday, her video has been viewed more than a million times.
"I'm just wondering why you have your camera out, taking a picture of me," she asks him at the start of the video.
"That's a good question," he tells her before taking a seat beside her.
The man, who identifies himself as Rob from Detroit, tells her that she was not the focus of his photo and accuses her of being "uptight" and overreacting "like a bitch."
"Oh, so now I'm a bitch?" she responds.
"You are," he calmly answers.
"Wow. OK. Because I asked you why you were taking a picture of me, I'm a bitch?"
"Very nice to meet you," the man responds. As he gets up to walk away he pauses to ask: "Do you have a green card, by the way? Yeah, you look, are you even ― "
Elhuni later posted her video to Facebook where she declared: "Racists feel emboldened now."
"Really what I wanted to show him was, one, what he did was inappropriate, and two, I'm not afraid of you," she told the newsweekly. "Because did you see how he sat down and got in my face? I knew my weapon was my camera."
A Twitter account appearing to belong to the accused man posted an apology Saturday, which has since been made private.
"My apologies for anyone I have offended today," it read. "I made a stupid comment. I take full responsibility."
In a follow-up Facebook post Saturday, Elhuni wrote that the man later tried to reach out to her, asking to "make things right," but that she declined his offer.
"My answer is 'no' I do not want to talk or write him," she posted. "Tell him if he wants to dialogue with a Muslim he should. But it won't be me. And if anyone wants to bring up that I'm wrong for not dialoguing, do me a favor and trip yourself."
The coffee shop has also weighed in, posting a statement to Facebook that denounced any kind of hateful speech and bullying, including among those reacting to the video online.
"This incident could have been a real chance for people to unify but that is not what we are seeing unfold," they stated Monday.
Elhuni, who identifies herself as a legislative intern for Rep. Brenda Lopez (D-Ga.), appears to be an outspoken political advocate in her community.
Requests for comment from Elhuni and Lopez on Saturday's incident were not immediately returned Monday. Attempts to reach the man filmed were not successful.
Popular in the Community