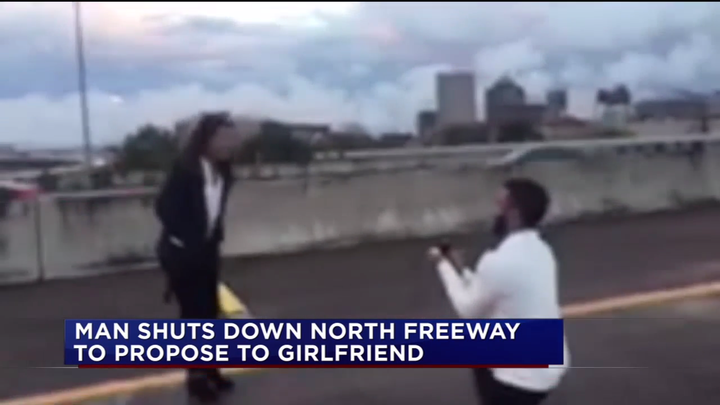 A Texas man is facing jail time and public fury after he shut down a major interstate so he could propose to his girlfriend in the middle of the road.
Vidal Valladares, 24, was charged Tuesday with highway obstruction, two days after the dangerous stunt on Houston's Interstate 45.
Noisy video capturing the drive-by gesture shows Valladares dropping to one knee before embracing Michelle Wycoff, 23, when she appears to say yes.
Just seconds after they embrace, cars resume passing by -- one just a couple feet away -- and blaring their horns in raucous singsong. Cars further back are seen at a standstill.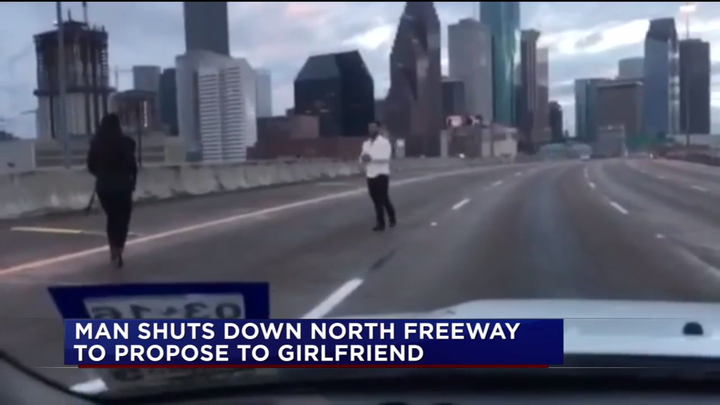 Valladares reportedly glorified the grandiose move on social media shortly after while calling the act "priceless."
"When you shut down one of the biggest and busiest freeways in the entire country (I45) and you ask your girl if she wants to marry u. That moment is priceless love u @mlwycoff," the since-deleted Imgur post, obtained by the Houston Press, read. 
Many failed to see the love, however, with many online critics noting KPRC's report that this would be Valladares' second marriage according to Harris County court records. He finalized a divorce in September.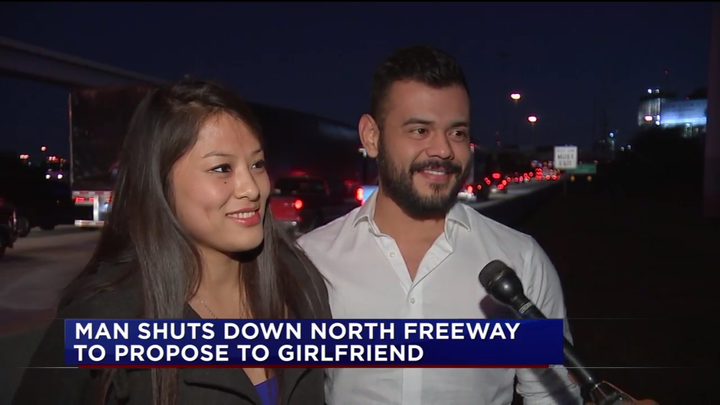 "Idiot of the day award goes too @mlwycoff and her SO," wrote @DesertFoxATX.
The Houston Press also got in on the hate, declaring their union "a match made in Douchetopia, orchestrated by Satan, with an audience of unwitting drivers whose lives came to a grinding halt after smashing into this wall of malignant narcissism."
"It was outrageous pomposity perpetrated by people who have no regard for the safety of others," Press reporter Craig Mallow blasted.
In an interview with KTRK, Valladares acknowledged the move as having been risky but, according to him, well worth it.
"I said, why not stop traffic for a couple of minutes and just propose right there," he said.
At the time, the couple was heading to a white and black party with friends, he said.
"There were about eight cars with me and we just lined up -- four and four -- and we just stopped," he told the station. "When I told her to get out of the car, she said, 'No I'm not getting out of the car.' I was like please."
Once they were both standing in the road, Wycoff said she saw her friends also get out with their cellphone camera's pointed in their direction. He then popped the question.
"Love makes you do stupid things," he said, "and I wanted to do something big for my girl. Something that she will always remember."
Here's hoping prosecutors are as moved.
If convicted of the misdemeanor charge, Valladares could face up to six months in jail and a fine of up to $2,000, according to the Harris County District Attorney's Office.
A warrant has been issued for his arrest and he is expected to turn himself in on Wednesday, a public information officer told the Huffington Post.
Attempts to reach Valladares and Wycoff for comment Wednesday were not immediately successful.
PHOTO GALLERY
Wacky Weddings and Proposals
REAL LIFE. REAL NEWS. REAL VOICES.
Help us tell more of the stories that matter from voices that too often remain unheard.