A man has been arrested and charged with murder after a Chicago boy was lured into an alley by gang members and fatally shot.
Fourth-grader Tyshawn Lee, 9, was shot in the face and back on Nov. 2 in an alley by his grandmother's house. The child was on his way to play basketball when gang members cornered him, allegedly seeking retaliation against the boy's father, who has gang ties, police said.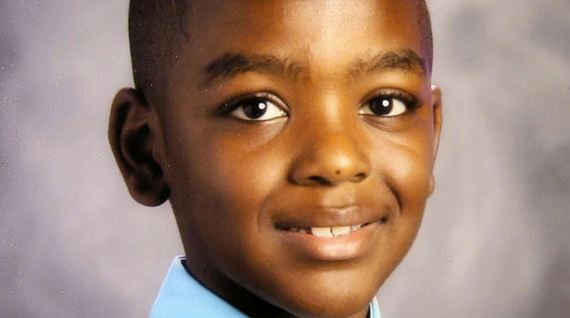 On Friday, police took 27-year-old Corey Morgan into custody and charged him with murder in Tyshawn's death. Officers questioned Morgan just days after the killing but released him. He was arrested and charged with a weapons violation two weeks after the killing, though that was unrelated to Tyshawn's death, the Chicago Tribune reports.
Police allege Morgan is a gang member with the Terror Dome faction of the Black P Stones. The suspect's brother, Tracey Morgan, was killed Oct. 13 after attending an anti-violence meeting held by Chicago police.
During a press conference late Friday morning, Police Superintendent Garry McCarthy said there are three men responsible for the child's death, including Kevin Edwards, who police believe is still in the area. The third man is in custody but has not been named. A murder warrant is out for Edwards.
"With a heinous crime like this, he's probably better off if we catch him than someone else," McCarthy said of Edwards.
McCarthy made it clear that the gangs affiliated with the killing would meet justice.
"They're going to be obliterated," McCarthy said. "That gang just signed its death warrant."
Tyshawn's father, Pierre Stokes, 25, skirted questions regarding his gang activity when the Tribune asked and said that the focus should be on his son's killers, not himself.
"They're more worried about me," Stokes told the publication this month. "Why are you worried about me, not the killer?" 
Stokes later said of Tyshawn's death, "To be honest, I feel bad. I feel like it's my fault."
Morgan is expected to appear in court for a bond hearing Friday afternoon.
Hundreds of people attended the little boy's funeral, where mourners discussed Tyshawn's love of basketball, video games, and macaroni and cheese. 
"Tyshawn, step on the new court prepared for you," Father Michael Pfleger said during the boy's eulogy. "Give a high-five to the team that's standing on the court waiting for you."
Calling all HuffPost superfans!
Sign up for membership to become a founding member and help shape HuffPost's next chapter