Never underestimate the true value of a handful of pocket change.
Rick Snyder, a 69-year-old resident of Manatee County, Florida, refused to sit still after he retired. Instead, he tended to one of his passions outside of work: caring for the feral cats living throughout his community.
"I've always liked animals. I've been taking care of feral cats for years and I started noticing a lot of change laying around," Snyder told the Bradenton Herald. "So I started picking it up and keeping track of it."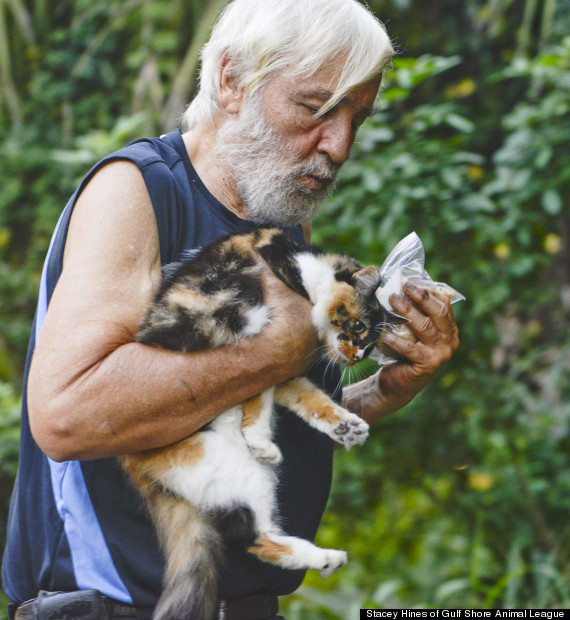 Snyder caring for one of the stray cats in Manatee County
Since having this idea more than 10 years ago, Snyder has managed to collect $21,495 in loose change weighing more than 1 metric ton, reported the Herald Tribune. Waking up around 4 a.m. each day, Snyder would walk through town, and gather coins from vacuums at local car washes and vending machines along his way to take care of the cats. He told the Bradenton Herald that he walks anywhere between 45 and 48 miles each week and collects an average of $5.60 in change each day.
After beginning the collection process, Snyder set an initial goal of $10,000 for himself, according to BayNews9. Once he surpassed his second goal of $20,000, however, he decided to give it all away to the Gulf Shore Animal League, a nonprofit organization run entirely by volunteers that spends the majority of their time helping cats in Manatee County. Cheryl Wade, the president of the organization, told the Bradenton Herald that Synder's donation is the largest they have ever received from a single individual.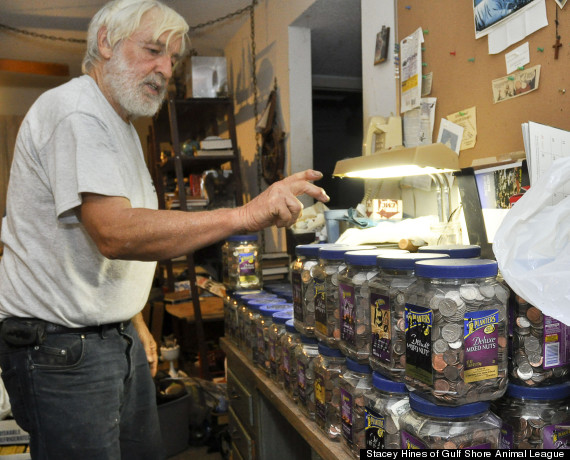 Snyder with his spare change collection from the past decade
With the change, the league will be able to continue adopting cats, and funding their spay and neuter program. They will also offer care for kittens before they are ready for adoption. Snyder and volunteers from the league gathered Tuesday to move the coins from his 151 peanut jar collection system to plastic bags that could be delivered to the local bank.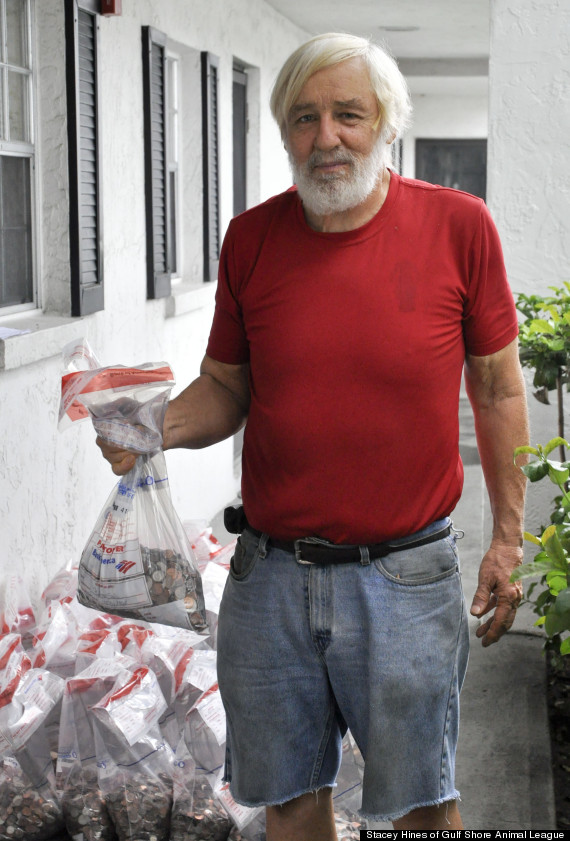 Snyder holding one of the many bags of spare change he donated to the Gulf Shore Animal League
"One of the problems we have being retirees is we become too self-involved," Snyder told the Herald Tribune. "My advice is, we need to get involved in something else. Do something for someone else."
While this initial donation has been deposited, Snyder continues to gather abandoned pocket change throughout Manatee County and prep his next contribution that will help his feline friends.
Popular in the Community