A man in China hired three people to destroy his Maserati -- worth almost half a million dollars -- because he was angry with the car dealer.
The owner, identified only as Wang, paid the men to trash the $423,000 Maserati Quattroporte at the Qingdao International Auto Show on Tuesday. According to Car News China, Wang claimed the dealer had replaced faulty parts in his vehicle with used parts; he also accused both the dealer and an insurance company of fraud.
The men hired to decimate the Maserati used sledgehammers to batter the windows and body. They wrecked the flashy vehicle in front of hordes of press and bystanders gathered outside the Auto Show.
Maserati, an Italian manufacturer, is one of several luxury car brands that have become popular in China since the country overtook the U.S. as the world's largest auto market in 2009. Maserati China told the AFP that Maserati and the Qingdao-based dealer had responded to Wang's complaint.
"We deeply regret that the customer decided to terminate bilateral talks in such a sudden manner," a representative said in a statement.
A Maserati representative did not immediately respond to The Huffington Post's request for comment.
This isn't the first time a disgruntled customer's frustrations have been taken out on a high-end vehicle. In 2011, a businessman from Qingdao named Han Nan hired men to annihilate his $750,000 Lamborghini. He was reportedly fed up with a mechanic who couldn't fix an engine problem, so he decided to have the car smashed in front of a crowd on World Consumer Rights Day.
Before You Go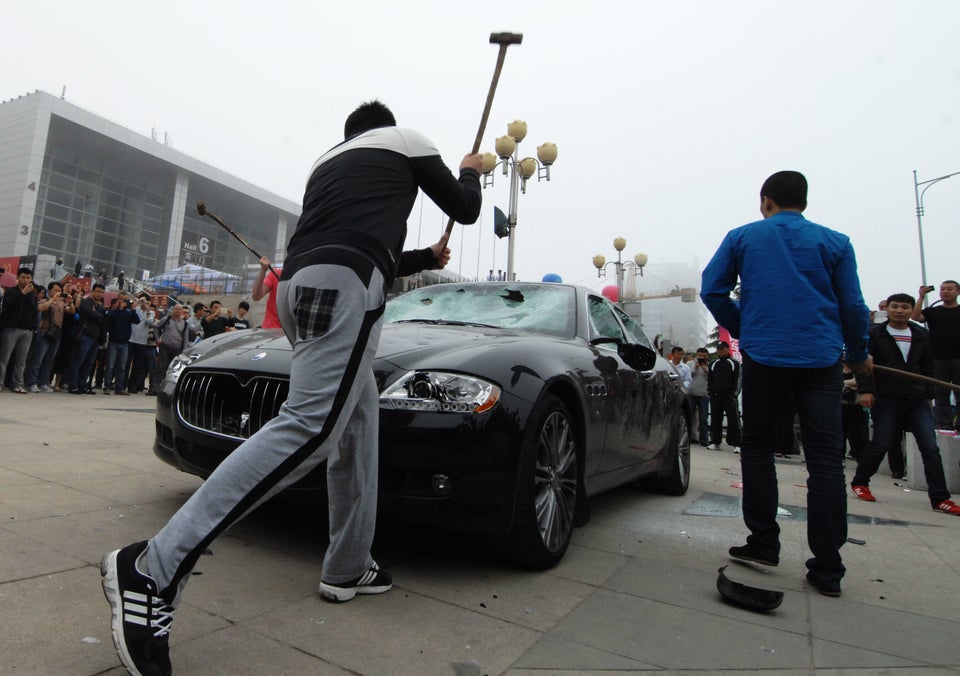 Man Destroys $423,000 Maserati
Popular in the Community