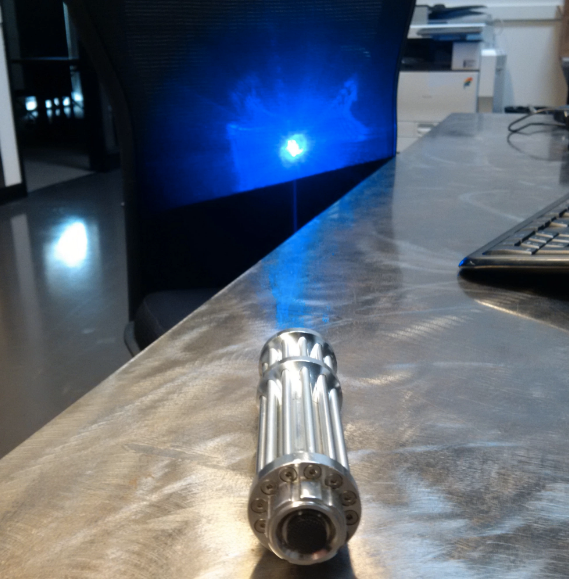 A Washington state man has been ordered to pay $100,000 after authorities say he shone a high-powered laser at a ferry's operators.
The U.S. Coast Guard revealed Friday it slapped Mark Raden, 27, of Freeland with the six-digit fine after the ferry master and chief mate were both injured by the piercing blue light in October.
In July he was accused of shining a laser into homes and in a responding police officer's face — felony charges were filed on Nov. 18. There was a third incident, also last year, that did not lead to charges. 
It's a federal offense to point a laser at a law enforcement officer or aircraft.
The FBI offers rewards of up to $10,000, for information leading to the arrest of anyone who points a laser at an aircraft. This is because it can pose a major danger to its pilots, passengers and those on the ground if the operator is blinded or injured by the light.
Coast Guard Capt. Joe Raymond echoed that sentiment regarding vessels.
"Firing a laser at a vessel is extremely dangerous and directly interferes with the safe movement of commercial vessels and the Coast Guard's ability to conduct search and rescue operations," he said in a statement. "I encourage individuals who witness laser attacks on commercial vessels and Coast Guard small boats and aircraft to call 911."
Despite the serious repercussions, lasers being shone at emergency personnel, aircraft, and other vehicles continues to be an ongoing issue.
"As a safety authority, we are very concerned about these incidents causing accidents or delaying emergency responses," Cmdr. Brian Meier said in a release.
The Coast Guard said it is asking for the public's help in identifying the person responsible. Anyone with information can contact their local Coast Guard unit or local law enforcement.
Calling all HuffPost superfans!
Sign up for membership to become a founding member and help shape HuffPost's next chapter
BEFORE YOU GO