A new women-only ride share app is launching in an effort to offer a safer transportation alternative for women.
Chariot for Women launches on April 19, and will work in the exact same way as GPS-based ride shares like Uber and Lyft -- with one major difference: only women will be able to drive, and only women and children are able to be passengers.
The app was created by Michael and Kelly Pelletz, a married couple whose income depended on Michael's driving for Uber after the crumbling of his family business. According to the Chariot for Women website, as a driver, one experience left Michael particularly unsettled: He picked up a young man in his 20s, who he soon realized was seriously inebriated and who became somewhat aggressive. Michael nervously sought help from a police officer. 
"How would a woman handle that situation, especially when I was so nervous myself?" Michael wrote.
Earlier in his Uber driving career, his wife told him that she would like to drive as well, but was too nervous and scared to do it. With this in mind, and shortly after his first "unsafe" Uber experience, the couple decided to develop the app and connected with an eager business partner who helped them bring it to market.
The drivers' identities on Chariot for Women are confirmed with background checks via Safer Places, Inc., in addition to random daily background checks. "As a ride share driver, driving for another ride share service once you pass the lenient screening, you could get a DUI a week later and no one would know," Michael told The Huffington Post. The random daily background checks are an extra step to ensure the safety of anyone getting into the car.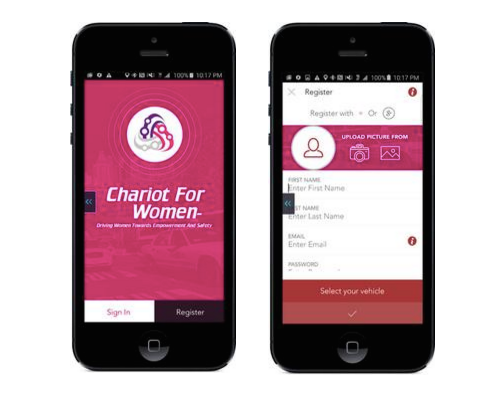 Uber, a leader among ride share apps, currently has a catalogue of thousands of sexual violence-based complaints in its customer service system, according to a BuzzFeed News report last month. BuzzFeed acquired screenshots of Uber's internal data that showed that 6,160 complaints came up under the search term "sexual assault," and 5,827 complaints came up with the term "rape."
According to Michael, people are looking for an alternative, so the demand for an app like Chariot is there. 
"I started this company eight weeks ago and we have had tremendous response from across the globe. We have literally hundreds and hundreds of women signing up daily. Four days ago over 1000 drivers applied in one day," Michael told HuffPost. 
And Chariot for Women not only aims to make ride sharing safer for passengers, but levels the playing field for women who are looking to make an extra income by driving at night -- something that could otherwise pose a safety risk with Uber or Lyft. The incentive is definitely there. "Drivers will have the ability to earn a very nice income as we cap how much we take per day," Michael said. Chariot keeps 25 percent of the first $100 -- but after the first $100, only keeps two percent of the remaining fares for the rest of the day. 
An added bonus, two percent of every trip's fare will go directly to a charity that benefits women. "Before the passenger can request a ride they have to choose where the two percent goes," Michael told HuffPost. Passengers will have a choice of 10 charities from which to choose. 
"This company is like a baby to my wife and I," Michael said. "I am truly humbled by the response from not just women, but from the hundreds and hundreds of men thanking me for giving them the peace of mind knowing their wife, mother, daughter, grandmother, friend will now be able to travel in the safest way available in the industry." 
Calling all HuffPost superfans!
Sign up for membership to become a founding member and help shape HuffPost's next chapter
BEFORE YOU GO
PHOTO GALLERY
6 Facts About Uber