BATON ROUGE, La. ― The Triple S Food Mart here has become a gathering place for people to demonstrate in protest of the shooting of Alton Sterling. Those peaceful protests were interrupted Friday evening when a young white man showed up at the convenience store with a loaded firearm strapped to his side.
"I think it was to provoke the crowd," Joaquina Winslow told The Huffington Post.
Winslow was among demonstrators who were gathered in front of a makeshift memorial for Sterling when the man, who identified himself to HuffPost as 21-year-old Jake David, of Baton Rouge, strolled up with a sidearm on his hip.
"It's very peaceful down here," said Winslow. "We're not about having people come provoke us. When I saw it, it immediately made me upset. I was upset someone had the nerve to come out here, knowing the situation. We want to keep it peaceful and guns are unnecessary."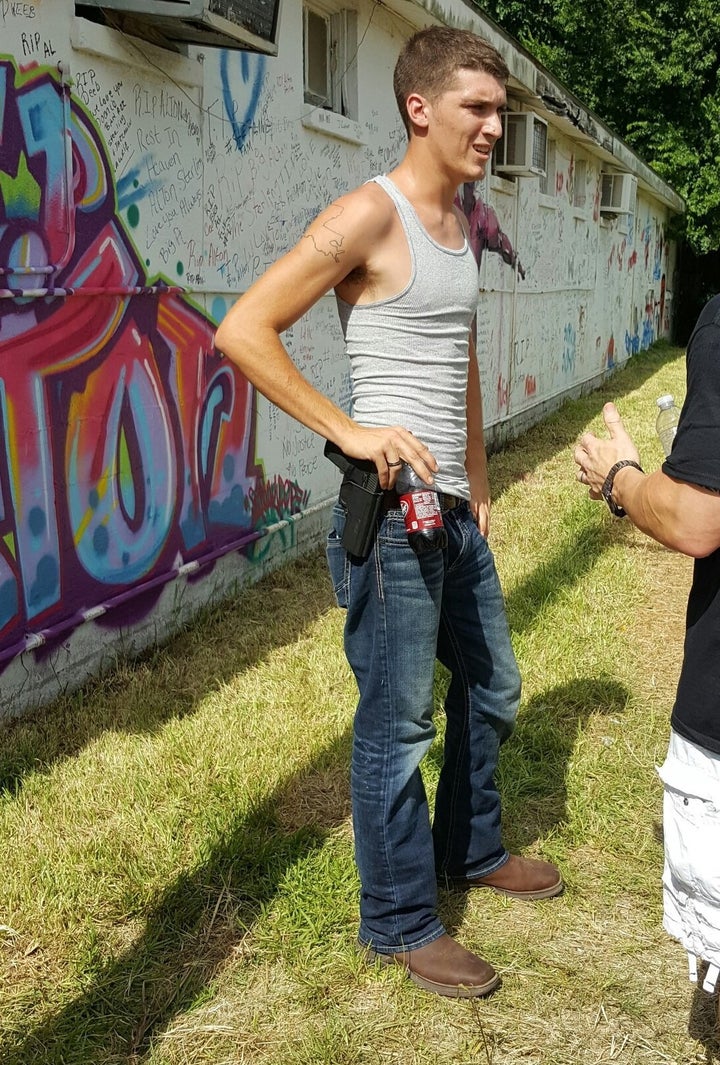 Some of the protesters, angered at the presence of a gun at the scene where Sterling, 37, was shot and killed by police early Tuesday, asked David to leave.
"Get out of here, crazy white boy," said one unidentified man. Another yelled, "You're the one who's going to get shot!"
Approached by HuffPost, David said he came to the demonstration to practice his Second Amendment rights, offer protection and show the community "white people are not crazy."
"It's hard to help when you have people complain about their rights being taken and at the same time they're trying to take yours," David said. "I understand it, but it's not my protest, it's theirs."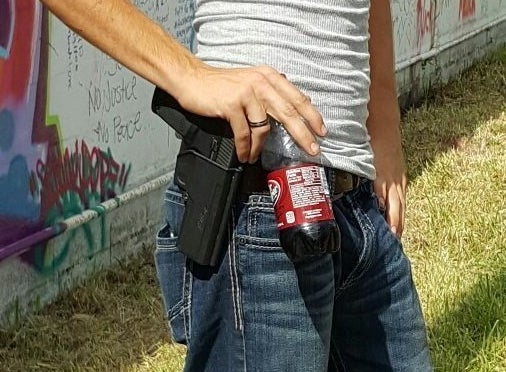 David, who was visibly shaking during the interview, said he is "nervous about what's to come."
"I carry it everywhere," he said. "If there's not a sign on the door, it's not a school, a church or government building, it's on my hip. It's not just for my own protection, I don't want to see anybody get hurt."
An older African-American man, known throughout the neighborhood as "Leo," was among the group of individuals that demanded David leave. After following David to his vehicle, Leo recounted his initial interaction with the young man.
"His words were, 'I came in case y'all needed protection,'" Leo told The Huffington Post. "Before we ran him off, I regret not saying, 'Where were you when Alton needed protection?'"
READ MORE ON ALTON STERLING'S SHOOTING DEATH
Calling all HuffPost superfans!
Sign up for membership to become a founding member and help shape HuffPost's next chapter
BEFORE YOU GO
PHOTO GALLERY
Shooting Protests