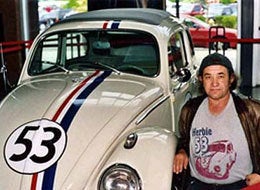 The Telegraph has a fascinating article on a Mr. Edward Smith of Washington State who loves cars. Mr. Smith explains:
"I appreciate beauty and I go a little bit beyond appreciating the beauty of a car only to the point of what I feel is an expression of love. I'm a romantic. I write poetry about cars, I sing to them and talk to them just like a girlfriend. I know what's in my heart and I have no desire to change."
According to the Telegraph:
Mr Smith, 57, first had sex with a car at the age of 15, and claims he has never been attracted to women or men.

But his wandering eye has spread beyond cars to other vehicles. He says that his most intense sexual experience was "making love" to the helicopter from 1980s TV hit Airwolf.

As well as Vanilla, he regularly spends time with his other vehicles - a 1973 Opal GT, named Cinnamon, and 1993 Ford Ranger Splash, named Ginger.

But he confesses that many of the cars he has had sex with have belonged to strangers or car showrooms.