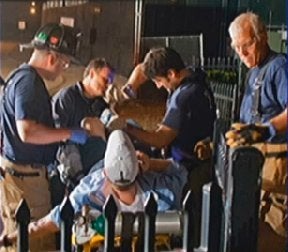 When it comes to paying his bar tab, this guy's on the fence.
A New Hampshire man tripped and impaled his leg on a fence after allegedly trying to flee without paying his bill at Manchester's Hilton Garden Inn, WHDH reported.
Firefighters had to cut through 18 inches of pole to free the unidentified man on Saturday night. He was responsive and didn't sustain any major injuries.
"He was actually in pretty good shape. He was texting and making phone calls. He was very cooperative," Manchester Fire Lt. Max Chiasson told the station.
He recovered quickly in a local hospital, WMUR reported. He underwent minor surgery for the injury.
It's unclear whether he'll face charges for the flop.
Related
Popular in the Community