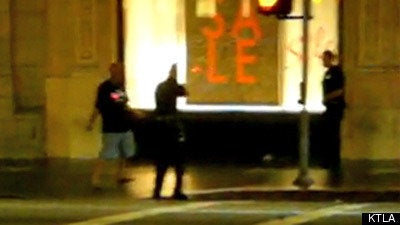 Via KTLA: The Los Angeles Police Department is investigating whether one of its officers practiced excessive force when he used a Taser to subdue an intoxicated man who then fell and hit his head. The incident was captured on video.
Two officers responded to a report of an intoxicated man at a bar in the Hollywood Highland complex around 2 a.m. Sunday, according to LAPD officials.
The man, who appeared intoxicated, had confronted several black men, calling them racially-derogatory names, police said.
The LAPD told the man to leave but he refused, threatened the officers and became aggressive.
The man reportedly threatened to "cut the throats" of the officers, according to an LAPD news release.
Officer Chris Craig used a stun gun while Officer Peter Kim tried to hit the man in the back. The man fell over and his head hit the curb.
The officers radioed for LAFD paramedics to respond to the scene, police said.
He was taken to Cedar Sinai Hospital where he's listed in serious but stable condition.
The LAPD announced on Monday that it had launched an investigation, which includes reviewing videos of the incident.
A three-minute video of the confrontation was posted on YouTube.
Anyone with information in the case is urged to call the Force Investigation Division at (213) 486-5230, or contact Crime Stoppers anonymously at 1 (800) 222-8477.
Related
Popular in the Community