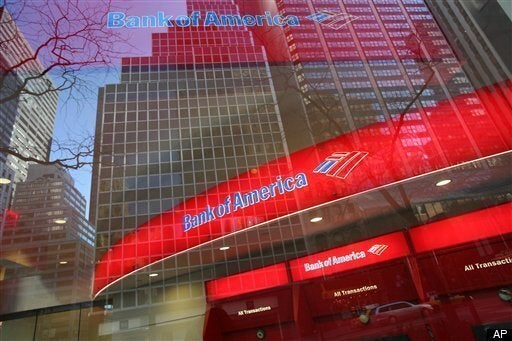 A 40-year-old Pennsylvania man is in jail after threatening to rob his local Bank of America branch in revenge for an overdraft fee.
Francis Coleman, an unemployed machinist from Bethlehem, called his local TV station Wednesday night and told them he wanted a camera crew to film him robbing the bank.
"Tomorrow I'm gonna get my satisfaction. I'm gonna rob the place," Coleman said, according to WFMZ producer Dan Rinkus. "Satisfaction is going to be had, one way or another."
Coleman complained to Rinkus that Bank of America sold his information to what he called a "credit assistance agency," which took money from his account, leading to overdraft fees. Rinkus said that in a matter-of-fact tone, Coleman gave the address of the branch he intended to rob at 11 a.m. the next morning, and volunteered that it was near his house.
Coleman said he fully expected Rinkus would relay the information to police. "He said he was unemployed. He said he was down and out and at the end of his rope."
Another station employee called police. Officers arrived at the house where Coleman lived with his mother around 11 p.m. Coleman told her he knew what they wanted and that she should go into the back room and sit down. Then he answered the door.
"He said, 'I know why you're here. It's because of what I said to channel 69 News,'" said Colonial Regional Police Deputy Chief James DePalma, reading from the arresting officer's report.
The officers asked Coleman what he meant.
"He said something was going to happen at the bank tomorrow and he needed witnesses, people to see it," DePalma said. "He was a little upset with the bank because of an overdraft."
Bank of America said it charged Coleman a "service fee," not an overdraft.
"Although we can't comment on the incident, since it's under investigation, I can say that the customer was never charged any overdraft fees," said a spokeswoman. "The customer is in the process of being refunded for the service fee originally charged."
After arresting him, an officer walked into the house and told his mother they were taking him to a hospital for evaluation.
Coleman's mother, who is 72, told HuffPost that her son had moved in to her house after the factory in Allentown laid him off last year.
"We've been independent financially, but he's been helping me with my physical problems because I've had so many surgeries," she said. (She asked that her name not be used in a story.) "I've had two knee replacements, my gall bladder, my eyes...He's always been there to help me. He's really been my right hand."
She said that last week, her son started to seem off. "He had been sort of edgy. I could tell last week and I should have done something but I thought he'd get past it."
Now Coleman is in jail on $75,000 bail, charged with making "terroristic threats." His mother said neither of them has enough money for a lawyer, much less a bail bond. The local public defenders' office told HuffPost that Coleman hasn't been in touch with them for representation.
Coleman didn't have any kind of weapon. It's not clear what he planned to do at the bank.
"God, he's never hurt everybody," said his mother, sobbing. "He's a good person. He's not even a violent person...I think he just flipped. He's gonna pay a terrible price for this."
Popular in the Community