This man's presence and love will never be forgotten by his family, even after his death.
Mitchell Whisenhunt, 26, of Longview, Texas, battled Marfan syndrome, a genetic disorder that affects the body's connective tissue, for more than four years, according to a his fundraising page. Sadly, last Saturday, Whisenhunt died, but not long after his death, his wife, Ashley, 22, discovered that he had left a collection of more than 30 letters for friends and family, as well as a book of poems, KLTV reported.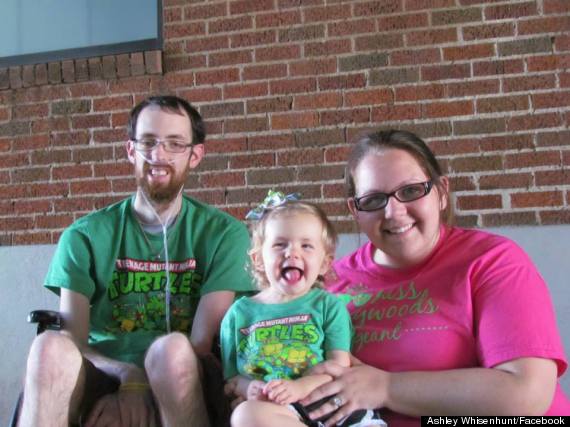 Many of the notes were reserved to be opened at a later date on special occasions and milestones in his loved ones' lives, including cards for his each of his daughter's birthdays until her 18th. He also wrote a letter to his community, asking them to help his wife during this period of mourning.
The poems he left behind had been written and collected over the course of more than 6 years -- a project that he hoped to share with the world. He indicated in a letter to his wife that his last wish was for the poems to be published in a book. Of all the items that were left behind, it was his final poem that his wife says moved her the most.
"My biggest reaction was to his last poem," Ashley told HuffPost in a message. "The last poem was titled 'Last Moment.' It was the last one he ever got to write. Reading that poem took me back to the last moments he was alive."
While Ashley says the grieving process has been difficult, she believes that with time, the letters and poems will prove a big comfort to her and her 1-year-old daughter, Brynleigh.
"I'm still hurt and in shock he's gone. I think in time it will help me," she said. "It will also help me show Brynleigh who her daddy was."
Ashley says she's still stunned by her discovery, but will honor Whisenhunt's wishes, and keep the items in a safety deposit box until they are meant to be opened. And while she has yet to read most of his letters, she said that she knows her husbands words are a sign that Whisenhunt always had his family in mind.
Mitchell Whisenhunt's family is currently raising money to pay for his funeral expenses. To donate, visit their fundraising page here.
Related
Popular in the Community